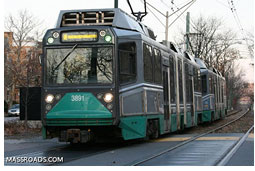 Photo by Alexander Svirsky, MassRoads.com.
- Allison Goldsberry
The extension of the Green Line to Medford and Somerville has reached some "major milestones," according to an email from project officials.
"Reaching these milestones represents a significant commitment of staff and financial resources by the Patrick-Murray Administration, and bespeaks the many public benefits promised by the Green Line Extension project," said the email.
The MBTA and MassDOT received full federal environmental approval for the Green Line extension, with the Federal Transit Administration releasing a Finding of No Significant Impact for the project. The finding is the result of years of work and coordination with state and local officials, including those from Somerville and Medford. Project organizers say the finding reaffirms the Green Line extention's "myriad environmental, mobility, economic development, and community-building benefits."
In addition, the project has received preliminary approval to receive federal funding under the "New Starts" program. Last summer project organizers said applying for federal funding has contributed to the delay in the expected completion of the Green Line extension, which is expected to be done between September 2018 and July 2020. Adding a somewhat controversial stop to Route 16 is contingent upon the receipt of federal funding, as the legally mandated part of the project is to extend the Green Line to College Avenue in Medford. Project officials have previously said the extension would be completed in two phases, with the Route 16 stop considered to be phase two.
In the email update the state makes clear federal funding isn't an absolute certainty:
"However, final authority to seek such reimbursements depends upon the Green Line Extension project being able to continue to successfully compete against other public transit projects within the New Starts program. For that to happen, the Green Line Extension project must reach and clear three additional obstacles – approval by FTA for entry into Final Design and then approval for Construction, followed by the execution of a Full Funding Grant Agreement – before the MBTA can secure federal participation in the costs of the project. MassDOT and the MBTA are committed to continuing to work towards that goal."
Currently, two stations are planned for Medford, one in Ball Square on the Medford/Somerville line and another in the Medford Hillside neighborhood on College Avenue. The once $600 million project is now estimated to cost $954 million. And that's just for six planned stops. The seventh, a stop at Route 16, could cost another $130 million, pushing the total cost of the project over $1 billion.