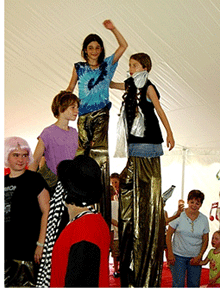 Kids, Talent, Crazy Fun.
OPENAIR Circus presents its 2012 Big Top performance
August 3 – 5, 2012
Many families from Medford will be on stage when the OPENAIR Circus performs under the big top next weekend, at Nunziato Field near UnionSquare in Somerville.
Performances cap off 6 weeks of summer classes offered by the Circus in three Somerville parks. Over 200 children, teens, and adults have been learning skills like stilting, juggling, acrobalance, and more.
This year's Cirque Internationale show features music, dance, and inspiration from around the world.
Performances dates and times are:
7PM on Friday, August 3.
2PM and 7PM on Saturday, August 4.
2PM on Sunday, August 5.
All performances are at Nunziato Field, on the intersection of Summer St. and Vinal Ave. near Union Square in Somerville. Suggested donation is $3.00! A better deal on family fun cannot be found.
The show runs about two hours with intermission. Refreshments, souvenirs, and circus equipment will be available for purchase.
The circus receives support from the Somerville Arts Council, volunteers, and the community at large.
To learn more, go to www.openaircircus.org.
The Circus is also available for workshops and birthday parties.
- Submitted by Pat Jehlen. Photo courtesy Vicki Halal. Pictured above, left to right: Medford residents Kerry Collins, Sarah Ruemenapp, Bianca Mase, and Leila Walker performed at the Open Air Circus in 2008.