Story Updated 8:47PM Sunday, July 29, 2012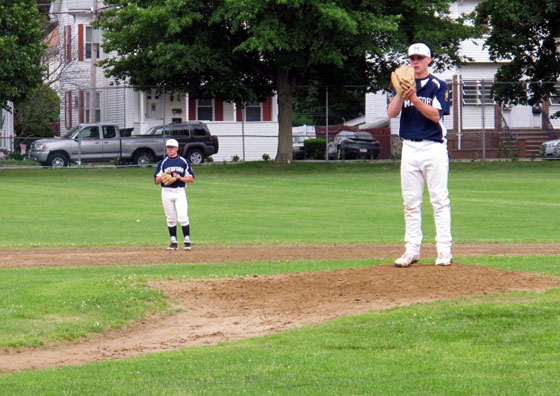 MC grad Paul Covelle earned the victory on the mound for the Medford Legion team Sunday.
- Allison Goldsberry
The Medford American Legion Post 45 baseball team opened the playoffs with a 5-1 road win over Tyngsboro on Sunday.
The team, seeded sixth in the District 5 Chairman's Cup, defeated 11th seed Tyngsboro despite having to give up home field advantage due to the overnight rain that made Playstead Park "unplayable."
According to Coach Ryan Kozul, Paul Covelle pitched a complete game, striking out twelve while giving up one run on four hits. Mike Pizzi was 2-2 with two RBI's and John Lavoie was 2-3 with an RBI and a run scored. Dave Center and Anthony Barry each added a hit and scored a run.
Despite finishing 8-11 and suffering several injuries among the pitching staff the last couple of weeks, Medford "stayed competitive against a lot of good teams" to make it to the playoffs, said Kozul.
Medford will travel to 3rd seed Natick for a quarterfinal game at 7:30PM on Tuesday.