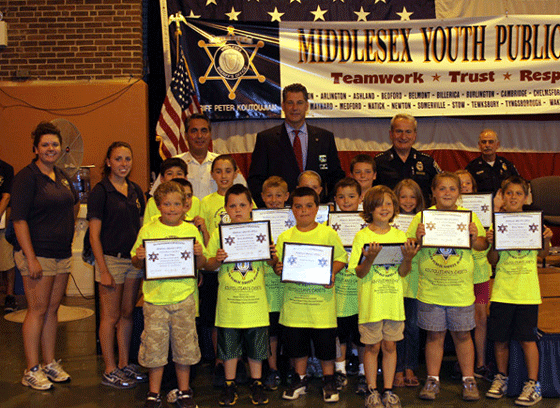 Medford Fire Chief Frank Giliberti (left) and Police Chief Leo Sacco (right) are pictured with Middlesex Sheriff Peter Koutoujian. Courtesy photo.
Middlesex Sheriff Peter J. Koutoujian proudly recognized the Arlington, Belmont, Medford and Somerville graduates of the 2012 Middlesex Sheriff's Office Youth Public Safety Academy (YPSA) on Friday, July 27, 2012.
The ceremony, which recognized a total of 218 children ages 9-11, was held at the Middlesex Training Academy in Billerica. Of the graduates, 52 cadets were from Arlington, 79 from Belmont, 56 from Medford and 31 from Somerville.
This is the 13th year of the free academy.
During Friday's graduation ceremony, Sheriff Koutoujian addressed the cadets about the importance of using what they learned during the week-long camp to help keep themselves and others safe. He also talked to them about teamwork, self-esteem and role models, pointing to their parents, as well as the police officers, fire fighters and sheriff's department personnel they met during the week.
Over the course of the week cadets were taught basic first aid skills and fire safety, participated in team-building exercises, were able to tour their local police and fire departments and took part in a series of demonstrations.
Friday's graduation ceremony was attended by police, fire and elected officials from all three communities.
More than 1,700 children from Middlesex County communities are expected to participate in this year's Middlesex Sheriff's Office YPSA program.
- Information and photo provided by the Middlesex Sheriff's Office