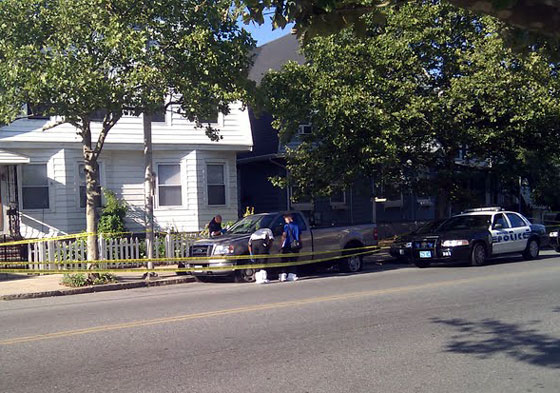 The scene of the crime on Salem Street in August 2010.
- Allison Goldsberry
A Medford man has been found guilty on charges of perjury in connection with lying under oath during a grand jury investigation into a 2010 murder, according to Middlesex District Attorney Gerry Leone.
Roger Beattie, 33, of Medford, was found guilty Monday in Middlesex Superior Court by a jury on two counts of perjury after a four day long trial. Middlesex Superior Court Judge Sandra Hamlin sentenced him to four to six years in State Prison with two years probation from and after, according to information released by the District Attorney's office.
"This defendant provided false statements regarding his critical knowledge of matters material to a homicide investigation. Today, he is held accountable for his deliberate attempts to obstruct justice," District Attorney Leone said. "This office takes such deliberate tampering with the pursuit of justice very seriously and we will charge those who intentionally interfere with our prosecution of a case."
Prosecutors say Beattie was a witness to a murder that occurred at 382 Salem Street in Medford on August 28, 2010. Beattie's roommate, Christopher Toppi, 30, of Cambridge, pled guilty on October 4, 2011 to manslaughter charges for initiating an altercation with the victim, Brian Fahy, 28, of Weymouth, and then beating him to death. Toppi is currently serving fifteen to eighteen years in state prison.
According to information released by DA Leone, Beattie told Toppi that Fahy was hanging out at their apartment with a friend, and Beattie saw Toppi beat Fahy. Beattie lied about seeing Toppi and didn't disclose additional conversations he had with him about the murder.