- Allison Goldsberry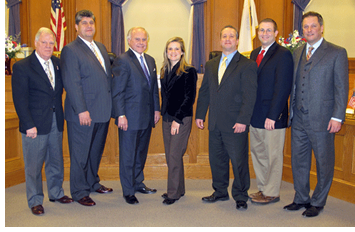 The Medford City Council will hold a Committee of the Whole meeting and a regular meeting on Tuesday, August 7.
The Committee of the Whole meeting will take place before the regular 7:00PM meeting and will focus on a potential upgrade of Medford High School's science labs and on the space needs of the Department of Public Works. The DPW yard has been mostly condemned and a plan to knock down the existing facility and construct a new one has faced opposition on the Council. The Committee of the Whole meeting is taking place in Room 207 at 5:30PM at Medford City Hall.
The Council's regular meeting will follow at 7:00PM in the Council Chamber. The Council will consider a request from Mayor Michael McGlynn to re-appoint William Young to a five-year term to the Medford Housing Authority. Mayor McGlynn is also recommending a new appointment to the Housing Authority, John Woods. The Housing Authority has been the subject of controversy lately after a federal audit revealed serious issues.
Mayor McGlynn is also seeking funds for the design of a new DPW facility, the demolition of the old one, and for a temporary location. The Mayor has requested $1,479,000 be appropriated for design costs, $160,000 for demolition, and $63,500 for relocation, all of which would come from the Fire Insurance Fund, according to the Council agenda.
The Council will also consider loan orders for the construction of new science labs at Medford High. According to School Superintendent Roy Belson, the Council has three amounts to consider- $14,216,966, $12,000,000, and $10,000,000- and is being asked to approve one. The state will cover 60% of the total and Medford will be responsible to pay back 40% over a twenty year period.
The Council doesn't resume its weekly meeting schedule until October. The Council will meet again on September 18 and September 25.