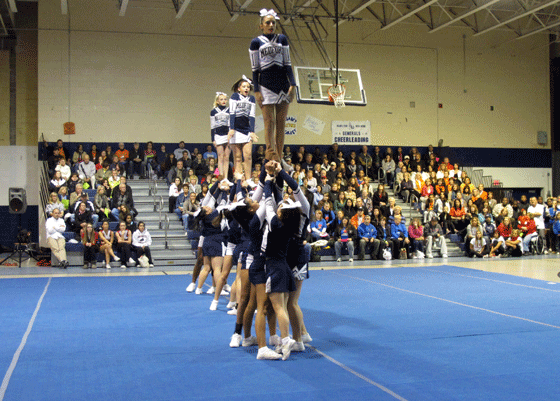 The Medford High School Cheerleaders will be hosting their second car wash of the year on Saturday, August 18 from 10AM-1PM at Tufts University on College Avenue. Cost per car wash is $5.00.
"We really would love to order new uniforms and the first car wash went so well. Tufts University agreed to host us again, before their students arrived back for the Fall 2012 semester," said Head Coach Michelle Kimball.
Interested parties can purchase tickets prior if they'd like by emailing Lisa at levangelista@medford.org or by contacting one of the members of the cheering team. Otherwise, people may pay directly that day.
The Mustang Cheerleaders recently spent three days at summer camp learning new stunts, pyramids and cheers. Their season officially starts at the end of August, and they are eager to gear up to cheer at the Medford High Football games as well as to be competitive during the Fall 2012 Competition Season.
The twenty members of the team are led by senior tri-captains Mikayla DeRienzo, Nicole Dello Russo and Brianna Dalessandro. The remaining members are: senior Tina Aiello, Christina Bramante, Andrea Galicia, and Alycia Neirinckx; juniors Hailee Centrella, Brianna Hardy, Stephanie Silva, and Shayla Squillante; sophomore Grace Owens, and freshmen Dominique Savoia, Katie Baldwin, Olivia Barrows, Nicole Cloutier, Gina Dello Russo, Ashley Morris, Hannah O'Brien and Alyssa DeRienzo.
"We hope Medford Mustang fans will come out and support the cheering team. We are grateful for the community's support and look forward to a great Fall Season," said Coach Kimball.
- Information from Assistant Coach Lisa Evangelista