- Bruce Tilman for the Andre Chiefs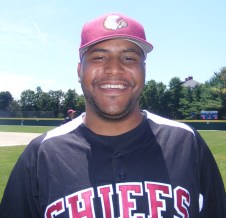 Through the long and storied history of the franchise, whether they were known as the Hosmer Chiefs, Andre Realty, or the Andre Chiefs, they have been blessed with that very special power hitter in the heart of their lineup every year. In the early to mid 1960's it was player-manager Lenny Dempsey, who handed off the unofficial throne to Sammy Greenwood, who was followed by Dave Polcari in the 1970's, then Warren Olson and Hank Landers of the 1980's and 1990's, and most recently Justin Crisafulli, who assumed the "role" with distinction and who had the longest reign of all, being the Chiefs power guy from 1995 through 2011. During his tenure Crisafulli shattered all team records ending up with 567 hits, 91 homers and 417 runs batted in.
Following the recently concluded 2012 regular season, you can now pencil in the name of Juan Portes as the newest addition to that renowned list. In a lineup that already had possessed some well respected veteran ICL bats like Jeff Bercume, Peter Copa, Mike Andre, Tony Deshler and Mike Baillargeon, the Chiefs'acquired Portes in the off season to fill the big shoes that were vacated when Crisafulli called it an ICL career at the end of last year. It has been a so far so good scenario as the Chiefs finished the regular season with a 23-7-2 mark and earned a first round playoff bye.
Portes' recently concluded first regular season in a Chiefs uniform yielded the former Minnesota Twins slugger the Intercity League's Triple Crown. He becomes the team's first Triple Crown winner since 1997 when Crisafulli turned the trick on the way to leading them to their fourth championship of the decade. Two days after that memorable season ended with a 35-6 record, Crisafulli signed with the Cleveland Indians before returning to Chiefs for fourteen more seasons.
Hitting a lofty .452 (38-84), Portes also smacked five homers, and drove in 24 runs. The shortstop edged out Wakefield's Scott Searles (.440), Bercume (.435), and Reading's Zac Talis (.424) for the batting title.Portes, Searles, Bercume and Talis were the only ICL regulars to hit over the coveted .400 mark during the 2012 regular season.
Portes shared the league lead in homers with Watertown Reds' slugger Dan Chaisson with five each. Bercume, who played a couple of seasons in the Oakland A's system, and has combined with Portes to give the Chiefs a dynamic 1-2 punch in almost all of the ICL's offensive statistical categories, finished in the second spot with four round trippers.
In the RBI category, Portes and Reds' veteran Steve Busby led the way with 24 runs driven in each. Bercume (5th) with 21 RBI and Andre (7th) with 19 RBI both joined Portes in the ICL's top ten.
"It's really an honor winning the ICL's Triple Crown but we still have some work to do," said Portes when reached on Friday morning. "It has been an exciting regular season for me and I honestly couldn't have done it without the lineup I have surrounding around me. From the first day I put on the Chiefs' uniform I felt like I was at home and that I had known the other guys who I'd just met for years," he added. "We are like a family now, we stick together on and off the field and our focus right now is to win the ICL championship," said Portes.
Prior to coming onboard with the Chiefs, Portes spent seven seasons in the Minnesota organization after being drafted in the 15th round of the 2004 MLB draft. During his pro career he played in 666 games hitting .264 with 61 homers and 314 RBI. In addition, he led the Twins major league club in hitting during spring training of 2010 with a .346 average and a team best three homers, including a grand slam (pictured at left being greeted at the plate by Ben Revere) and six RBI against the New York Yankees on March 7. Portes was in the middle of a lineup that featured the likes of Joe Mauer, Ben Revere and Nick Punto. He just missed making the Twins twenty-five man opening day roster and to many observers it was a surprise when was sent back to the minors after such a productive Grapefruit League spring. He spent the rest of that season playing in New Britain and waiting for the call-up to the show that never came. Portes then bypassed a Triple "A"opportunity in 2011 and chose to return to the Boston area to be closer to his family who are in now attendance on a daily basis at virtually every Chiefs game both at home and on the road.
Portes played a year of high school baseball at Malden High before being drafted in 2004. He got his introduction to the Chiefs from Mike DiCato and Jared Freni who he teams up with in the spring to make up the Somerville High coaching staff.
"During the spring, Jared (Freni) and I spoke to Juan about the Chiefs. We told him that even though he had spent all of those years in pro ball that we can play some pretty decent and high level baseball in the ICL too," said DiCato with a laugh. "Juan was immediately interested in playing for the Chiefs so we contacted Chuck, they talked, and he became a Chief. We are all pretty happy that he did," added DiCato.
DiCato, who took over as the Somerville High head coach in 2012, has had the opportunity to observe Portes as both a coach and a teammate. "As a first year high school coach, I couldn't have asked for anyone better than Juan. He is unbelievable with the kids and commands immediate respect", said the Chiefs veteran and former UMass-Amherst standout who is looking to rejuvenate the Highlanders' baseball program. "As a teammate on the Chiefs, his approach to the game is outstanding and just being around him brings us all of us to a new level of confidence," added DiCato.
Chiefs' seven year veteran Mike Andre, who spent the majority of the season hitting behind Portes in the four hole with usual cleanup man Peter Copa sidelined with a quad injury, echoed DiCato's comments.
"Juan's just a great teammate and you can just tell how much he loves the game," said the third baseman. "It doesn't hurt to have a guy like Juan in the three spot who you think is going to make something good happen each time he comes to the plate. It's pretty easy to pick up RBI's when you are hitting behind guys like Juan and Bercy (Jeff Bercume) added the former Merrimack captain and four time ICL all-star."
"From the moment he first walked into the dugout Juan had an immediate and positive impact," said manager Chuck Andre. "His ability on the field, how hard he plays the game, his impressive numbers, and his professional resume all speak volumes. But what has impressed me more about Juan is how quickly he became one of the leaders of the team both on and off the field and the way he brings the club together and solidifies our team chemistry. The younger guys gravitate toward him. He's a class act and we are sure glad to have him," Andre stated.
On a team whose roster is dotted with no less than twelve former college captains as well as seven other players with professional experience, it is apparent that Portes, who has acquired the nickname "Big Daddy" from his Chiefs' teammates, has indeed become a leader.
Portes tried to divert attention away from himself when questioned about his first three months as a Chief. "I really want to thank all of the guys, the coaching staff, and especially Chuck (Andre) for giving me the chance to part of this team," he added in his now familiar humble fashion.
The Chiefs must be pretty thankful for him as well.