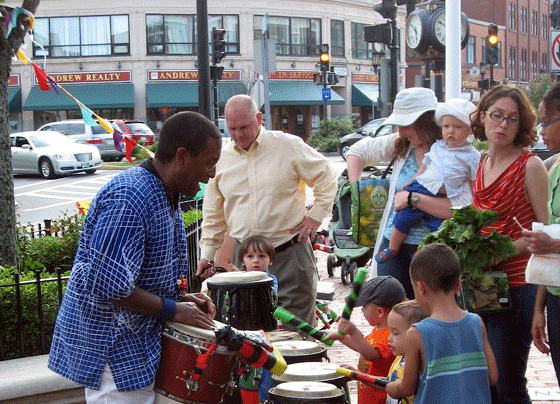 Live entertainment was one of many simultaneous activities taking place during last month's first Circle the Square event in Medford Square. Photo courtesy Susan Fairchild.
Come join the fun at Circle the Square, a Third Thursday event in Medford Square featuring live performances, art vendors, and activities at all corners of the Square! The event, from 4-8 pm on August 16, will feature:
- Occasional Brass & Strings, an award-winning ensemble that offers classical instruments playing classical, jazz and contemporary arrangements
- Rishava Green and Adam Ritchie, one half of The Lights Out, one of the elite bands in the Boston Rock scene
- The funk music of Jake Knox and the Need
- The warm sounds of Boston-based singer-songwriter Carrie Cheron
- A lively performance from Open Air Circus
- An origami demonstration from Flapping Bird Origami
- Our all new "Where in the Square?" scavenger hunt – find the images around Medford Square, fill in the missing words, and be eligible for a raffle to win prizes from local businesses
- Food trucks from Mei Mei's Street Kitchen and BonMe
- Artists displaying their wares at the Salem Street Burial Ground Plaza, including pen and ink drawings, jewelry and clothing
- Fitness Fest at the Medford Farmers Market
- A musical performance at the recently reopened Bestsellers Café
- Interactive sculpture for young artists from Artwork In2Shades
- Music and pizza from Salvatore's at Shipyard Way
- A live animal demonstration from Curious Creatures
- Dream On with the Devena Theater Company at the Medford Public Library
- View rare objects from the Civil War at the Medford Historical Society. Guess what the objects were used for to be eligible to win a book on Medford history
- Special deals and activities at local businesses
For more details, and a map of event locations, visit us at www.circlethesquare.org, on Facebook at http://www.facebook.com/circlethesquaremedford or Twitter at https://twitter.com/CircleSquareMed.
- Submitted by Circle the Square organizers