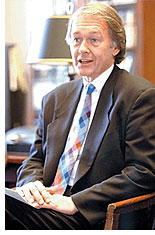 US Representative Edward Markey (D-MA) released the following statement in response to presumptive Republican presidential nominee and former MA governor Mitt Romney's announcement he has selected Wisconsin Congressman Paul Ryan as his running mate:
Republican presidential candidate Mitt Romney selected Wisconsin Congressman Paul Ryan as his vice presidential running mate, and in doing so, threw his support to a lawmaker who proposed budgets that would eviscerate spending on clean energy while protecting billions in subsidies for the most profitable oil companies in the history of our planet. In February 2011, House Republicans passed Rep. Ryan's budget proposal that promised to slash investments in alternative energy by 70 percent in 2012 and 90 percent over the next three years.
Congressman Edward J. Markey (D-Mass,), top Democrat on the house Natural Reources Committee, released the following statement.
"The Romney-Ryan ticket is a big win for big oil. The Republican energy agenda is simple: protect Big Oil interests, slash renewable energy, and fight against an American-made clean energy future and the jobs it creates. If Paul Ryan has his way with America's energy policy, instead of noodling for fish off our beaches, Americans would be dodging drilling rigs. The Paul Ryan budgets proposed ending Medicare as we know it, and now a Romney-Ryan ticket would end America's clean energy future as we know it."
Rep. Ryan's proposed FY 2013 budget resolution protected oil tax breaks worth $40 billion over the next decade, while slashing funding for investments in clean energy research, development, and deployment. The Ryan budget called for a $3 billion cut in energy programs in FY 2013 alone.