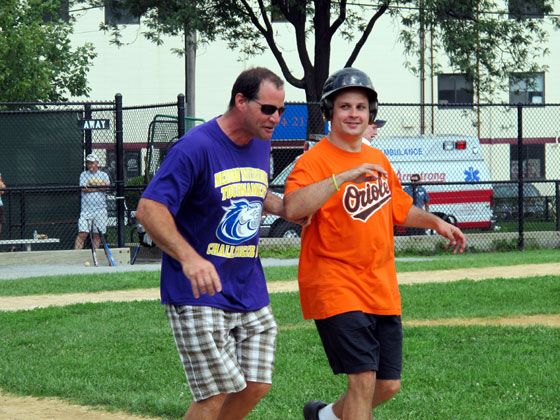 Malden All-star John Marsinelli heads to first base after getting a hit during last year's Challenger Game.
The Medford Invitational Tournament will be celebrating its sixth annual Challenger Day Event this Sunday, August 19th. Challenger Day is dedicated to children with mental and physical disabilities who love to play baseball. The game is filled with fun and excitement as the fifty young athletes get the full "World Series" ceremonial treatment.
This year's event will be held at Bruce Field in Malden. Thanks to the generosity of the City of Malden and the Irish American Club, the children, volunteers, and fans will be treated to a day of great food, fun, and surprises. The local Medford and Malden business community will provide food for everyone.
The kids will be joined by Wally the Green Monster, Pat the Patriot, and Blades the Bear once again this year. Challenger Day is the signature event of the two week baseball tournament run by the MIT.
Opening ceremonies begin at 1:00 pm. The MIT wishes to extend an invitation for you and your family to come and see what baseball is all about; young athletes challenging their abilities while having fun.
Checkout the MIT website (www.mitbaseball.com) for more details.
- Submitted by Ron Giovino, MIT president