Medford Resident, Artist Who Created Life-Size T-Rex at Museum of Science, Suffering from Multiple Myeloma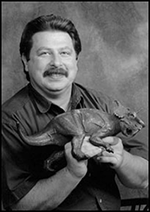 A week's stay near Dublin, Ireland, original artwork, a Johnny Pesky World Series autographed baseball with an inscription referencing Ted Williams… all of these and so much more are available for auction at the Lift Up LoRusso Benefit to be held September 22nd from 11-3 at the new Carroll's Bar & Grille in Medford Square.
Back in the days of the burned out shell on Forest Street, MHS student lived through split sessions and class divisions based on academic tracks & classroom availability. With this sort of fractured social climate it is surprising there was any school spirit at all, when in fact this splintering actually fostered a need to be seen as a whole. The classes of 1969-1971 have coalesced into a strong group with a sense of identity seldom seen in today's graduating classes. A group of Medford High Alumni have banded together to help one of their own: Local artist and all round great guy MHS '71 grad Dan LoRusso who is battling a cancer called Multiple Myeloma.
The event is a Luncheon Buffet, Silent Auction with Raffles and a 50/50 Drawing. Tickets can be purchased in advance for $25 on line at www.lorussobenefit.com or by sending a check to Citizens Bank, 40 Mall Road, Burlington, MA  01803. Attention: Kathleen Pasquale for LoRusso Benefit.
- Information from Thomas Convery, Jr.