Andre Chiefs League Champions, 1st Time Since 1997
|
Chiefs Top Blue Sox Sunday in Deciding Game 5 on Sunday
Story Updated 8:08AM Monday, August 27, 2012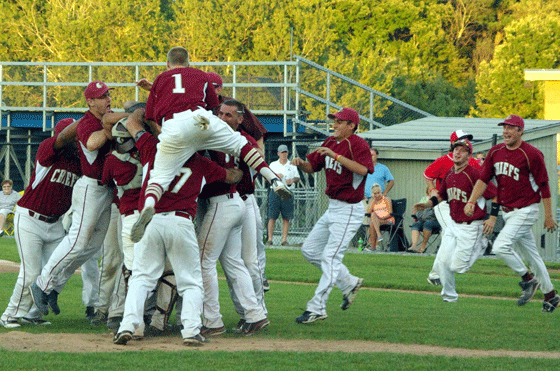 – Stephen Freker, Medford Daily Mercury/Malden Evening News
Jared Freni's done plenty this summer throwing smoke off the mound for the Andre Chiefs.
But there are two items that could not be brought up prior to last night's ballgame, another gem by the righthander from Malden.
Now they can be said:
Freni has been the best pitcher in the best semiprofessional baseball league in Massachusetts from his opening start to his last.
And the best pitcher in the Intercity League hurls for the best TEAM in the ICL.
Case closed.
With Freni running the defense through his towering presence on the Chiefs mound, and his Andre teammates finally busting out of offensive funk, a 15-year ICL championship drought for one of the winningest teams in league history came to a end with a 3-0 shutout victory for the Andre Chiefs over five-time defending champ Lexington last night on the road in a winner-take-all Game Five.
It is the Chiefs' first crown since the 1997 campaign and the fifth overall for the franchise and manager Chuck Andre.
The Chiefs, then known as the Hosmer Chiefs, won eight other ICL crowns from 1968-1980.
In defeating Lexington, the Chiefs stopped a five-year championship streak for the Blue Sox.
In Sunday's clincher, the Chiefs scored the only run they would need in the first innig. Hal Landers had a leadoff single, Tony Deshler sacrificed Landers to second and Juan Portes doubled to left to drive in Landers.
Freni won his second game of the finals and his second shutout. He scattered six hits, struck out four and walked one.
Portes had two doubles, an RBI and run scored for the Chiefs. Mike Baillargeon doubled and had a sacrifice fly in the sixth. Jeff Bercume drove in the Chiefs' other run.