- Allison Goldsberry
Thanks to the quick actions of five people at Wrights Pond on August 17, a little Medford girl was saved from nearly drowning.
On that day Sophia Bendok, 11, and Sky Trapella, 12, noticed Semrawit Ghebrelul, 3, on the bottom of the pond under about three feet of water. The two girls quickly pulled her up and alerted Trapella's father, Emmanuel. Emmanuel and two lifeguards, Medford High School seniors Jaquieson Xavier and Desiree Savoia, pulled the little girl, who was unconscious, out of the water and initiated CPR.
Semrawit's mother witnessed the whole thing and went into shock. Both Semrawit and her mother, Eden, were transported to the hospital. The three-year-old was in intensive care for a day before staying in the hospital another day for observation, according to her father, Michael. Semrawit, who turns four in September, is doing "wonderful," said her father, who was present for a ceremony at Wrights Pond on August 31 recognizing the five individuals who rescued his daughter. With TV cameras from local news stations rolling, he thanked those who were involved.
"I'm so, so grateful that you were here," said Michael. "If you weren't here, my daughter would not be here today."
Mayor Michael McGlynn presented Keys to the City to Trapella, his daughter, Bendok, and the high school lifeguards. He also gave gifts to Semrawit and her family, including Medford T-shirts. According to her father, the little girl was understandably not ready to come back to the pond after the incident.
"The actions of these individuals saved this child's life and these young girls took it upon themselves to do the right thing and help a stranger in a time of dire need. This is not something that happens everyday. They should all be commended and applauded for their lifesaving efforts," said Mayor McGlynn.
Video of the press conference is available on the city website.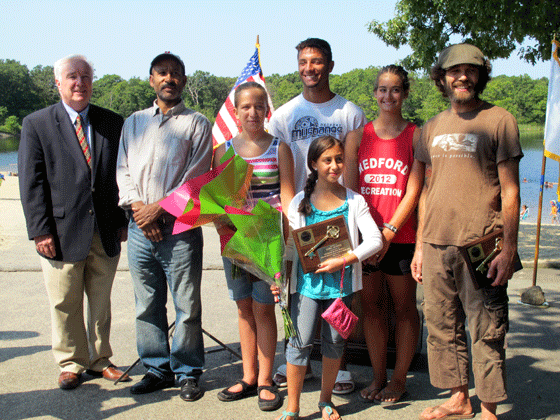 Pictured above, left to right: Mayor McGlynn, Semrawit's father Michael, Sky Trapella, Sophia Bendok, Jaquieson Xavier, Desiree Savoia, and Emmanuel Trapella.