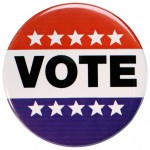 - Allison Goldsberry
A state primary is taking place on Thursday, September 6 to help determine who will ultimately be on the ballot for the general election in November.
Polls open on Thursday at 7AM and close at 8PM. Even though Medford's schools are used as polls, school will be open and in session. A listing of Medford's polling locations is available on the city website. Not sure which poll is yours? Enter your address here to find out.
So what is this state primary and who is running for office? According to information released by the Registrar of Voters office and from the Secretary of State's website, there will be three different ballots for Democratic, Republican, and Green-Rainbow primary candidates running for several state offices.
Medford voters will see candidates for the following: Senator in Congress (statewide); Representative in Congress (5th District); Councillor (6th District); Senator in the General Court (2nd Middlesex District); Representative in General Court (35th Middlesex, 23rd Middlesex, or 34th Middlesex District); Clerk of Courts (Middlesex County); Register of Deeds (Middlesex Southern District); and Sheriff (Middlesex County).
Voters enrolled in a party who participate in the September 6 primary must use their party's particular ballot while voters unenrolled in a party can choose one of the three ballots.
Three Republican candidates are seeking to be their party's challenger to long-time Democratic Congressman Edward Markey. Republican voters will decide among Frank Addivinola, Jeffrey Semon, and Tom Tierney. The candidate receiving the most votes will be on the ballot in November.
There is a six-way race among Democratic candidates for Register of Deeds, the head position in a regional land records office. There is no Republican candidate, so the Democrat who wins the primary will ultimately win the seat. Robert Antonelli, Frank Ciano, Thomas Concannon, Maria Curtatone, Tiziano Doto, and Maryan Heuston are all vying for the position.
Two Democrats are seeking their party's nomination for Governors Council for the 6th district, incumbent Terrence Kennedy (Lynnfield) and Francis Xavier Flaherty, Jr. (Medford). There are no Republican or Green Party candidates so the Democrat who wins the primary will ultimately win the seat.
Democrat Michael Sullivan is the only candidate running for Middlesex Clerk of Courts. Middlesex Sheriff and Democrat Peter Koutoujian is running unopposed. State Representative and Democratic incumbent Paul Donato (35th Middlesex District) is running unopposed.