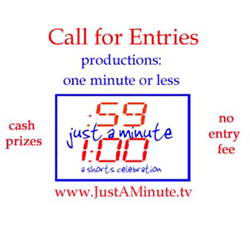 Submissions Must be Minute or Less; Entries Accepted Until October 1, 2012
At www.JUSTAMINUTE.TV, anyone, not just an aspiring filmmaker, can upload their one minute story (must be one minute or less) from any media, any device, and any genre to compete for prizes in this unique worldwide event.
The previous Just A Minute Festival garnered over ¾ of a million hits on the website with entries coming in from fourteen different countries.
The festival's founder, veteran Hollywood producer Don Daniel, believes that every story has a beginning, middle and end, and that creative people can tell their stories in sixty seconds or less, in the same way that television and radio commercials make their point.
There is one Grand Prize and special prizes for in the categories of 'youth', and one 'adults': those over 18. There are additional prizes from participating cities and towns. Arlington, Beverly, Billerica, Medford and Winchester, MA are involved so far, and there are other geographically sponsored prizes as well.
There's no entry fee.
The films can be uploaded to the site: www.JustaMinute.tv until October 1. Starting October 5, the films will be streamed through the site and viewers are welcome to view and vote as often as they'd like until December 1 when the voting period ends. This is a viewer's choice event and to say thanks for voting, one weekly random voter during the voting period, will be sent $20 as an honorarium.
The winners will be announced on December 10.
Any device can be used to make the movie, it can be uploaded from any media, any genre, and you may use film, video, flash, machinima, animation or whatever… just nothing inflammatory, pornographic and, of course, nothing over 60 seconds.
The program is supported in part by grants from the Winchester Cultural Council, the Arlington Cultural Council, the Medford Arts Council, Beverly Cultural Council and the Billerica Arts Council, local agencies which are supported by the Massachusetts Cultural Council, a state agency.
For more information: Don Daniel/The Media Tribe, justaminutefestival@gmail.com, Tel: 781-606-0033 www.JUSTAMINUTE.TV.
- Information submitted by Don Daniel