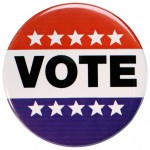 - Allison Goldsberry
On Thursday, September 6 only ten percent of Medford's registered voters participated in a low profile state primary.
The primary yielded the Democratic, Republican, and Green-Rainbow party candidates who will be on the ballot on Tuesday, November 6.
In addition to the high profile presidential race between incumbent Democratic President Barack Obama and Republican challenger Mitt Romney, voters will cast ballots for several other important races, not the least of which is the hotly contested race between incumbent Republican Senator Scott Brown and Democratic challenger Elizabeth Warren.
Long-time Democratic Congressman Edward Markey, the dean of the Massachusetts delegation, is being challenged by Republican Tom Tierney. On a more local level, incumbent Democratic State Representative Sean Garballey (Arlington, Medford) faces opposition from Arlington Republican Joseph Monju, while Democratic colleague Carl Sciortino (Medford, Somerville) is challenged by Medford Republican David Rajczewski.
Several candidates are running unopposed. Middlesex Sheriff Peter Koutoujian, Governor's Councilor Terrence Kennedy, State Representative Paul Donato (Medford, Malden), all Democrats, are running unopposed for new terms. Democrat Michael Sullivan, former Mayor of Cambridge, is the only candidate running for Middlesex Clerk of Courts while Maria Curtatone has no opponents for Register of Deeds.
The deadline to register to participate in the November 6, 2012 election is Wednesday, October 17, 2012.
For more information about the upcoming election visit InsideMedford.com's Election 2012 page.