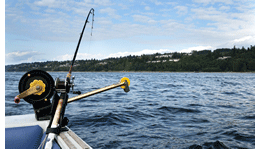 This week Medford is hosting the B.A.S.S. (Bass Anglers Sportsmen Society) divisional bass fishing event. It's the first time the event is being held in Massachusetts.
According to information provided by Mayor Michael McGlynn's office, the tournament is being held Monday, September 10 through Friday, September at the Mystic Wellington Yacht Club. Fifty-six anglers will be fishing the Mystic River, Mystic Lake, Malden River, and all eighteen miles of the Charles River in Boston.
"Medford's pleased to have been selected to host this competitive tournament. A winner from each state will move onto the semi finals in Birmingham, Alabama in November and winners will be able to compete in the 'Super Bowl' of fishing tournaments, the B.A.S.S. Masters Classic in February in New Orleans. We urge local residents to come down and view this great event!" Said Mayor McGlynn. "In addition, boats will be available to take out interested parties who may want to view the fishing directly. Fishing starts early 5AM and boats start coming in around 1PM. Weighing begins at 2PM-5PM."
Jerry Ramasci of the BASS Federation Nation Of Massachusetts said the Lower Mystic Lake and three rivers were "combined" to create an environment large enough to hold the event. He also noted that the three rivers have undergone "extensive water quality clean up and management to the point they are excellent fresh water bass fisheries."
The fishing event is expected to pump approximately a half million dollars into the regional economy.
- InsideMedford.com