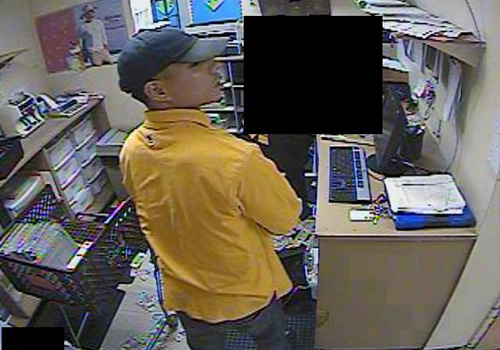 A surveillance photo of one of the suspects. Photo courtesy FBI.
- Allison Goldsberry
The FBI's Violent Crimes Task Force and the Malden Police are searching for suspects connected to an armed robbery of Stop and Shop on Labor Day.
According to information released by the FBI, two men entered the Charles Street supermarket wearing yellow Stop and Shop shirts shortly after the store opened at 6AM. One of the men created a diversion while the other slipped into the manager's office. He allegedly pointed a handgun at the employee in the office and demanded money. The suspects made off with an undisclosed amount of money, fleeing the scene in a small grey vehicle on Canal Street.
Both men are described as approximately 20 to 25 years old with slender builds and black hair. They are possibly black or Hispanic with light complexions, according to the FBI.
Stop and Shop is offering a monetary reward for information leading to the arrest and charging of the two alleged robbers. Anyone with information regarding the robbery should call the Boston FBI at (617) 742-5533 or the Malden Police Department at (781) 397-7181.