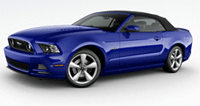 When the Mustang football team takes the field against Newton South for their first home game on Friday, September 14, there will also be Ford Mustangs outside Hormel Stadium available for a test drive.
Ford Motor Company and Sentry Ford Lincoln of Medford are partnering to help raise money for the MHS football team and band as part of Ford's Drive One 4 UR School program.
Members of the local Medford community will have the opportunity to raise up to $6,000 for the football team and band by test-driving a Ford or Lincoln vehicle outside of Hormel Stadium between 5:00PM and 7:30PM. Twenty dollars is donated for each test drive.
Each test drive will be five minutes long. Test drives are only open to licensed drivers eighteen and older, and are limited to one test drive per household.
The football game starts at 7:00pm. Prior to the game at 6:30PM Mayor Michael McGlynn will "cut the ribbon" on the new turf field at Hormel Stadium.
This is the third straight season the football program will benefit from the test drive fundraiser. Similar events have also been held for the boys basketball and baseball teams.
- Information from Medford Public Schools website and City of Medford