Grace Episcopal Church Blesses New Boiler
|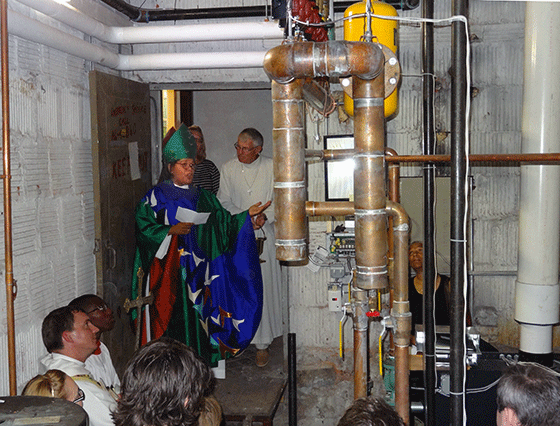 On Sunday, September 9, the Rt. Rev. Gayle Elizabeth Harris, Bishop Suffragan of the Episcopal Diocese of Massachusetts blessed Grace Episcopal Church's new boiler during her official visitation to the parish.
"Almighty God, your Holy Spirit equips the church with a rich variety of gifts to accomplish your will and mission in the world. Today we celebrate the most practical of gifts, the gift of boilers to warm our church, that it may serve as the gathering and meeting place for our congregation and the community," she prayed as she blessed the boiler.
The $100,000 project completed replaces the church's old failing oil system with high efficiency gas condensing boilers. This boiler project will both save the church money on energy costs, and dramatically reduce the building's carbon footprint. Medford Wellington Service, of Medford, installed the new boiler.
This boiler replacement is part of Grace Episcopal Church's historical restoration and building greening project funded by the church's 2011 Capital Campaign.
– Information and photo submitted by Reverend Noah Evans, Rector, Grace Episcopal Church