Dalai Lama Making Return Trip to Medford
|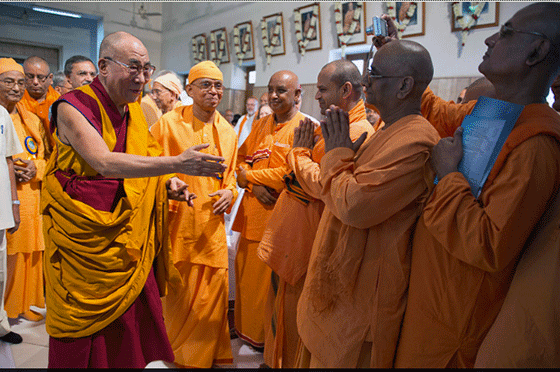 The Dalai Lama greeted participants in a prayer meeting in New Delhi, India, on September 11. Courtesy photo.
– Allison Goldsberry
The 14th Dalia Lama, Tenzin Gyatso, the spiritual leader of the Tibetan people, will be making a return trip to Medford in October, according to information distributed by the Kurukulla Center.
The Kurukulla Center for Tibetan Buddhist Studies, located on Magoun Avenue, is hosting the Dalai Lama for a "private talk and blessing of the temple" on October 16. It is his second visit here, as the Dalai Lama visited the center in September 2003.
"We are delighted and extremely honored to welcome him back," said a flier that was distributed to homes in the neighborhood.
The Kurukulla Center is holding both public and private events during the Dalai Lama's visit. More details are available on www.dalailamaboston2012.com.
A community meeting is planned at the Kurukulla Center on Thursday, September 20 at 7PM for neighbors and city leaders to receive information about the visit.
The Dalai Lama was the recipient of the Nobel Peace prize in 1989 for his efforts to liberate Tibet from China. He has been living in exile in India since 1959, according to his website.