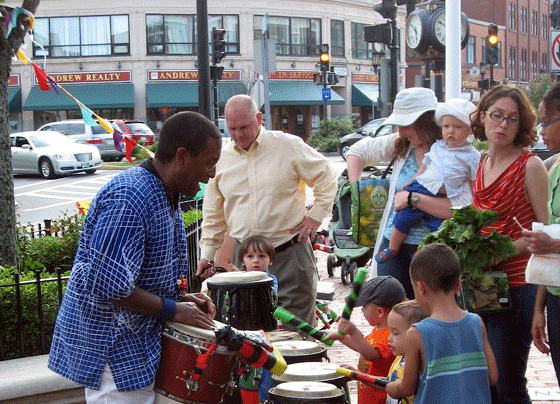 Live entertainment is one of many simultaneous activities that take place during 'Circle the Square.' Photo courtesy Susan Fairchild.
Come join the fun at Circle the Square, a Third Thursday event in Medford Square featuring live performances, art vendors, and activities at all corners of the Square! A sampling of our activities from 4-8 pm on September 20 will include:
- A performance by Essence, an all female a cappella group from Tufts University specializing in music of the African diaspora
- Belly dancing performance and demonstration by Sardis, a renowned belly dancer and teacher in the New England area.
- A performance by singer/songwriter Al Peterson, who draws on a wide range of folk, blues, and rock traditions to create his own unique poetic style.
- Music and pizza at Shipyard Way, brought to you by Salvatore's. Proceeds from the sale of pizza will be donated to a local charity.
- The opening of MACI's new Mystic Art Gallery at 14 Main Street.
- A dance performance from Medford's Dance Haven.
- Trick bike demonstrations from JRA Cycles.
- Performance of the traditional Chinese Lion Dance from Xtreme Ninja.
- Artists displaying their wares at the Salem Street Burying Ground Plaza, including fiber arts, mosaics, art prints, solar panel jewelry, and soaps.
- Lively interactive activities from Open Air Circus.
- Team Medford's 1000 Crane Challenge and launch of Japanese lanterns to celebrate Recovery Month.
- Dr. Lock's Teddy Bear Check-up sponsored by Pediatric Associates of Medford.
- Visit the Friends of Salem Street Burying Ground table for a fresh take on this historical site. Here rest many of the founding fathers and mothers of our city. Learn about this sacred outdoor art gallery featuring graceful willows, winged faces and smiling skulls.
- Our Scour the Square scavenger hunt – find the answers to questions about Medford, and be eligible for a raffle to win prizes from local businesses.
- Food trucks from Mei Mei's Street Kitchen and BonMe.
- Special deals and activities at local businesses.
Final event activities may be subject to change. For more details visit us at www.circlethesquare.org or visit us on Facebook http://www.facebook.com/circlethesquaremedford or Twitter https://twitter.com/CircleSquareMed.
- Submitted by Laurel Siegel