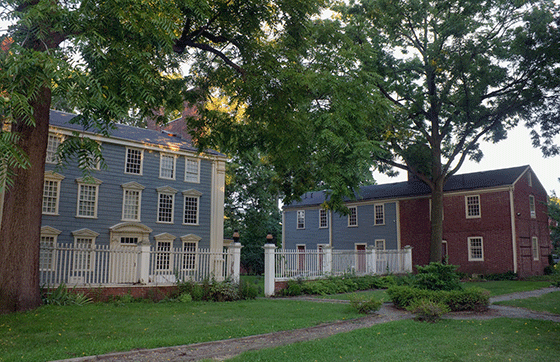 Royall House and Slave Quarters in Medford Joins Smithsonian Magazine's National Museum Day Live! Free Admission for All Participants on September 29
On Saturday September 29, 2012, the Royall House and Slave Quarters in Medford will offer free tours to visitors who download a Museum Day Live! ticket at Smithsonian.com. Tours are scheduled at 1, 2, 3, and 4 p.m.
The Royall House and Slave Quarters is located at 15 George Street, Medford, Massachusetts Parking is available in front of the museum, which is also on the MBTA 96 and 101 bus lines.
"We're delighted to again be participating in this important public outreach event spearheaded by the Smithsonian Institution and look forward to welcoming new visitors to our site." noted Tom Lincoln, Executive Director of the Royall House and Slave Quarters.
Please note that one ticket is permitted per household, per email address. For more information about Museum Day Live! 2012 and a list of participating museums and cultural institutions, please visit Smithsonian.com/museumday.
Author Sally Gunning to Speak October 13
On Saturday, October 13, 2012 at 4:00 p.m., Cape Cod author Sally Gunning will present a free program at the Royall House & Slave Quarters at 15 George Street, Medford. She will discuss and sign The Widow's War, Bound, and The Rebellion of Jane Clarke, her critically acclaimed novels set in pre-Revolutionary Massachusetts.
Called "historical fiction at its very best" by the Boston Globe, Gunning's novels are unforgettable stories of individual lives set against the public drama of our nation's beginnings. By merging historical fact with riveting fiction, Gunning offers her readers both an intimate glimpse of daily life and a vivid sense of the race, gender, and class dynamics of eighteenth-century Massachusetts. Her novels are "highly recommended" by Library Journal. These three titles will be available for purchase at the event; 20% discount for RH&SQ members.
About the Royall House and Slave Quarters: In the eighteenth century, the Royall House and Slave Quarters property was home to the Massachusetts colony's largest slaveholding family and the enslaved Africans who made their lavish way of life possible. Architecture, furnishings, and archaeological artifacts bear witness to the intertwined stories of wealth and bondage, set against the backdrop of America's quest for independence. The Slave Quarters is believed to be the only remaining such structure in the northern United States, and the Royall House is among the finest colonial-era mansions in New England.
Guided Tours are offered on Saturdays and Sundays at 1, 2, 3, and 4 p.m. (no 4 p.m. Tour on October 13). Modest admission.
For more information, please call 781-396-9032, visit RoyallHouse.org or email Director@RoyallHouse.org.
- Submitted by Royall House Director Tom Lincoln