Cardinal O'Malley Visits Middlesex Jail
|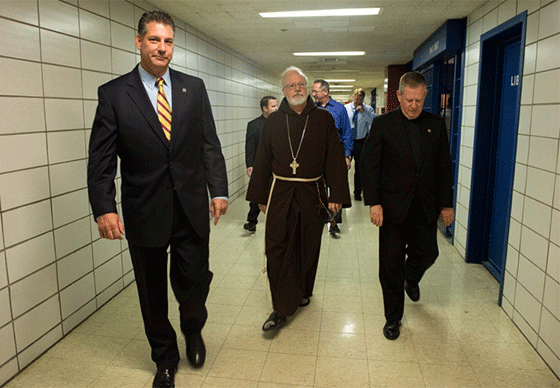 Middlesex Sheriff Peter J. Koutoujian welcomed Cardinal Sean O'Malley to the Middlesex Jail in Cambridge Wednesday, September 19. The visit was believed to be the first by a Cardinal to the jail since it opened in 1983.
Sheriff Koutoujian and Cardinal O'Malley were joined by Middlesex Jail Superintendent Scott Brazis, chaplains from the sheriff's office and officials from Boston College. Cardinal O'Malley also offered Mass in the jail's chapel for about 20 detainees and staff members.
"We are committed to ending the cycle of criminal and destructive behavior that has landed these men in our custody," said Sheriff Koutoujian. "Here at the jail in particular, that means providing detainees with access to chaplains to offer spiritual guidance. These same chaplains also provide tremendous counsel and comfort to the men and women who work for the MSO."
During the tour of the jail Cardinal O'Malley and Sheriff Koutoujian spoke with inmates and corrections officers. The Cardinal also met with members of the MSO command staff and chaplains. Wednesday's visit was part of an ongoing dialogue between the MSO and the Archdiocese of Boston on prison ministries and other initiatives.
"I am grateful Cardinal O'Malley took the time to come to Cambridge and learn about what we are
doing here," said Koutoujian. "I look forward to continuing to work with the Cardinal and our chaplains to offer services and programs for our inmates and staff."
– Information and photo from Middlesex Sheriff's Office