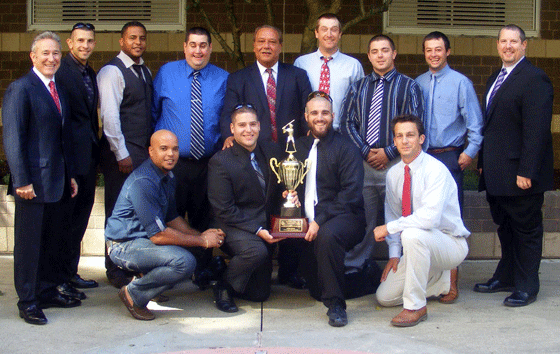 Medford's Andre Chiefs baseball team were recognized by the Boston Red Sox for winning the 2012 Intercity League Championship. Several Chiefs who were still in the area were able to attend a special luncheon at the Sheraton Needham on September 25.
The Chiefs received their 2012 championship trophy at the event. The team won the ICL championship after defeating the Lexington Blue Sox in a five game series. It is their first league championship since 1997.
Pictured above, kneeling from left to right: Edward Ovalle, Mike Andre, Matt Boleski and Tony Deshler. Standing, left to right: Coach John Veneziano, Peter Copa, Juan Portes, Coach Anthony Durkee, Manager Chuck Andre, Tim Dunphy, Nick Leva, Mike Barbati and Assistant Manager Paul Crisafulli. Courtesy photo.
- InsideMedford.com