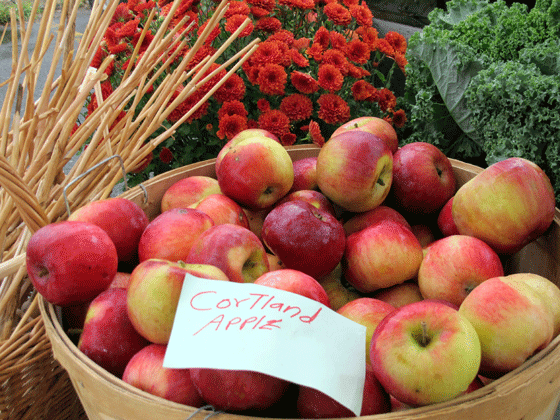 Cortland apples from Spring Brook Farm of Littleton at last year's market.
Come celebrate the end of the 2012 Medford Farmers Market season and the beginning of apple season!
Enter the apple bake-off, learn about the local history of apples in Medford, taste some apple cider, bob for apples, and decorate mini pumpkins. Music and storytelling by Miranda from 4-6pm. Free.
Bake-Off Details:
Join your fellow neighbors for a friendly competition judged by community members, Mayor McGlynn, our market manager, and market vendors. Bring your favorite and most prized home-baked apple creation to the market for tasting by 5pm, as judging will begin at 5:30pm. The winners will receive a market t-shirt and reusable water bottle. To RSVP and enter your baked good in the contest, or if you have any questions about the contest, email medfordfarmersmarket@gmail.com by October 8th.
The Medford Farmers Market (www.medfordfarmersmarket.org) is from 3-7 PM in the parking lot behind Medford City Hall (across from the Hyatt Hotel), Riverside Ave., Medford, MA.
- Information from Syrah McGivern, Medford Farmers Market