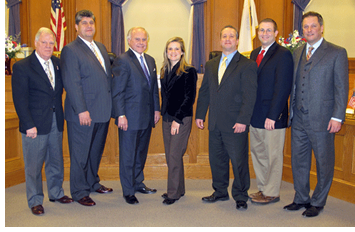 Story Updated Monday, October 1, 2012 8:11PM
The Medford City Council will have its regular meeting on Tuesday, October 2. The Committee of the Whole meeting scheduled for 6PM has been postponed to Tuesday, October 9.
The regular meeting will begin at 7PM in the Council chamber. The Council has a brief agenda that includes a request from the Mayor to appropriate funding for various energy improvements at Medford High School and City Hall. Mayor McGlynn is requested $170,000 be used from the city's Sale of Real Estate account for several energy saving measures, including new lighting, steam traps, and work on windows and doors.
The regular meeting will be broadcast live on Channel 22 for Comcast subscribers and Channel 43 for Verizon subscribers.
Next week's Committee of the Whole meeting will review radio transmissions for first responders and the city's E-911 center. The Council has requested the Mayor, Police Chief, Fire Chief, and DPW Director attend the meeting.
- InsideMedford.com