MHS Football Shows Progress Despite Loss
|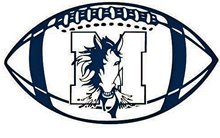 – Stephen Freker, Medford Daily Mercury
They couldn't have scripted the start of the game any better if they tried.
For the first time in a long time, the Medford High football Mustangs took the ball on their first possession and drove right down the throats of an opponent into the end zone.
Quarterback Reggie Thelemaque scoted on a nine-yard keeper for six. The point after was good by Esad Dzolta and before you could say "Presto," it seemed like some Mustang magic was alive and well at Dedham High Friday
night.
Medford owned a 7-0 lead before a lot of those who had trekked south to see the "new-look" Blue and White squad had even settled into their seats.
More momentum-making play followed.
Dedham jetted all the way to the Mustang six-yard line on the ensuing kickoff and were banging on the door hard.
But, guess what?
Medford High's D-line and linebackers didn't melt, fold or yield.
They held.
And Dedham had to settle for a chip shot field goal and Medford kept the lead.
"What a great start, we drive down the field and score and then our defense gets a huge challenge right away and we responded," newly-appointed Medford head coach Jason Nascimento said.
Unfortunately for the Mustangs and coach Nascimento and his staff, Mother Nature never got to read this script.
And obviously, she did not care lick, as the bad weather conditions got worse as the night went on, a veritable deluge of rain continued and Medford's quality control. especially offensively, got washed away in the raindrops.
Medford's skill guys simply could not hold onto the ball or make clean exchanges. The Mustangs were not simply bitten by the turnover bug, they were devoured by it.
Four lost fumbles and intereptions, all but one turnover coming in the second half, quashed most hopes of a road win Friday night.
"I was very happy with the effort and the enthusiasm, we played right till the last whistle, but you can't really win when you turn the balkl over five times," Coach Nascimento told the Medford Daily Mercury and Malden Evening News. "We couldn't get any type of drive going, we just kept giving them the ball back."
And when Dedham did get the ball back, several times with a short field, the home team took care of the ball… and took care of business. They scored.
"We made them work for everything they got, though," Coach Nascimento said, pointing to the efforts of his defensive line and linebackers. "(Dedham) did not even have a first down in the first half. We really shut them down."
Coach Nascimento said senior defensive tackle Jake Porrazzo and senior linebacker Tyler McLean both played their best games of the season, along with junior Orlando Batista.
"Those guys didn't give an inch, they played real tough for us," Coach Nascimento said.
Overall, despite the loss, Coach Nascimento, who replaced departed head coach Rico Dello Iacono earlier in the week, said he was pleased with the effort of his team.
"A lot of people said they thought we looked the best we have this season, the kids played hard and they want to get better," Coach Nascimento said, "those are two things we ask for as coaches and we got that.
"It was good football and we competed for four quarters," Coach Nascimento said. "If we do that Friday night (against Martha's Vineyard) hopefully it adds up to a win."