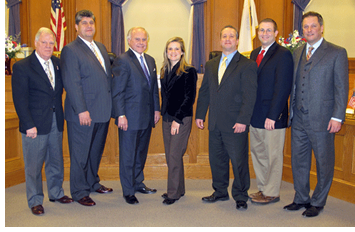 The Medford City Council will hold its regular meeting and a Committee of the Whole meeting on Tuesday, October 9 at Medford City Hall.
The regular meeting will begin at 7PM in the Council chamber. The Council has a short agenda that includes a request from Mayor Michael McGlynn for the city to accept donated equipment from Sentry Ford. The company is donating $15,300 in items to the Department of Public Works, including heaters, a furnace, a rooftop heating and air conditioning unit, air compressors, and office equipment. According to the agenda, the items will be used by the DPW facility at 48 Commercial Street.
The regular meeting will be broadcast live on Channel 22 for Comcast subscribers and Channel 43 for Verizon subscribers.
The Committee of the Whole meeting will review radio transmissions for first responders and the city's E-911 center. The Council has requested the Mayor, Police Chief, Fire Chief, and DPW Director attend the meeting. The meeting is taking place at 6:00PM in Room 207 at City Hall.
Both meetings are open to the public.
- InsideMedford.com