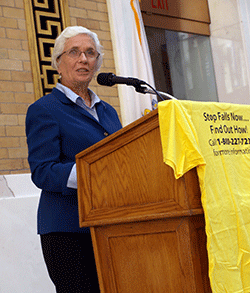 Falls Can be Prevented
As most of us know from our own experience or from friends and family, falling is one of the most dangerous things that can happen to older people. But falls aren't inevitable!
That's the message of Falls Prevention Awareness Week, recently celebrated at the State House.
Preventing falls can save lives and money. Falls are the leading cause of injury deaths for people 65 and older, accounting for over half of their unintentional injury deaths. And falls also lead to long-term disability. Inpatient hospital charges alone for these unintended injuries are more than $511 million in Massachusetts.
How can we prevent falls?
Everyone, especially seniors, need a safe home environment. Rugs securely attached to the floor, well-lit stairways with railings, and frequently used items on lower shelves are simple steps for everyone.
Exercising and staying active are also important. Exercises like tai chi and yoga can improve overall strength and balance. Less well known is the importance of drinking plenty of water; dehydration, especially for seniors, is often a cause for falling.
Some people are afraid that physical activity will make a fall more likely. But a doctor or physical therapist can recommend appropriate exercise to balance, flexibility, muscle strength and gait.
One of the great falls prevention success stories in this state and across the country is the "Matter of Balance" programs hosted and administered by local Councils on Aging. In small group sessions, a trained facilitator emphasizes practical strategies to reduce fear of falling and increase activity levels. Participants learn to view falls as controllable, reduce the fear of falling, set realistic goals to increase activity, change their environment to reduce fall risk factors, and exercise to increase strength and balance.
Managing medications is extremely important, since some medications can increase the risk of falls. For those who recently returned home from the hospital or are homebound, home health agencies ensure that medications are don't conflict, and include clear instructions. Home health agencies are required to perform a falls risk assessment for Medicare home health patients, which include the home environment and the patient's gait and overall condition.
As communities, we need to work to ensure safe walking conditions for everyone: safe sidewalk surfaces, without uneven bricks, and free of snow and ice in the winter.
We can also help each other, as neighbors or caregivers. From helping remove slippery leaves from pathways and stairways in the fall to shoveling snow and removing ice from in front of an elderly neighbor's home in the winter, we can keep people out of the hospital and even save lives.
The Falls Prevention Coalition, which includes the Home Care Alliance and dozens of other organizations, is charged with preventing these often avoidable accidents.
To learn more, visit www.mass.gov/dph/falls or call the Department of Public Health's Falls Prevention Line at 1-800-227-SAFE.
For information on falls prevention and balance/exercise programs scheduled in your area, please call the Medford Council on Aging at (781) 396-6010.
State Senator Patricia Jehlen represents the Second Middlesex District covering Somerville, Medford and parts of Woburn and Winchester.
Patricia Kelleher is Executive Director of the Home Care Alliance of Massachusetts, an association of 200 home care and home health agencies that provide services from homemaking to skilled nursing and therapy.
Public Forum on Community Housing and Services at State House October 17
On October 17th from 4pm-5pm in the Gardner Auditorium at the State House there will be a public information and listening session regarding the implementation of An Act Relative to Community Housing and Services. At this session, Undersecretary Aaron Gornstein and Assistant Secretary Marilyn Anderson Chase will provide background on the effort to date and an overview of key components that will be included in the interagency MOU mandated by the legislation. After that presentation, attendees will have an opportunity to offer feedback and guidance on this initiative.
This law, which was passed last year, will lead to the development of up to 1,000 units of Supportive Housing in Massachusetts over the next few years. Supportive Housing – defined as affordable housing linked with supportive services designed to help tenants with modest incomes maintain housing stability and maximize their independence – is a national best practice to end homelessness and is critical to enabling persons with disabilities and seniors with service needs to live independently in the community.
"It is absolutely critical that Massachusetts residents of all ages, incomes and abilities have choices when it comes to securing an affordable home," said Senator Patricia Jehlen, the sponsor of the legislation.  "This initiative will expand opportunities for people that have too few options to live in an affordable home near friends and family today."
Contact Laila Bernstein to identify if you have a need for an ASL interpreter or a CART reporter by October 11th. If you are unable to attend and would like to submit input about the implementation of this legislation, please send your feedback to Laila.Bernstein@state.ma.us by October 17th at 5pm.
- Submitted by Senator Jehlen's office