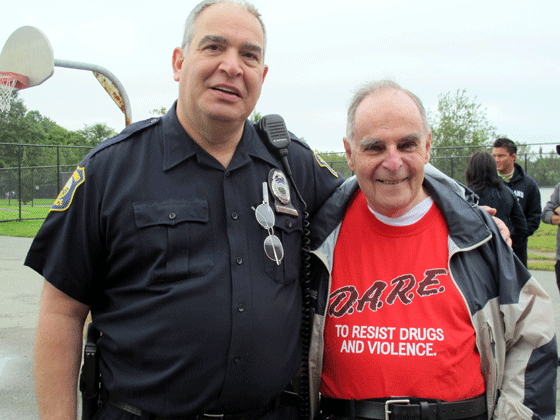 Medford Police Officer Dave Ciampi with Tom Fahey, father of Pat Fahey, at last year's race.
Please join us for the fifth annual Medford Fit for Life 5K Road Race/Walk on Sunday, October 21.
The event is held in honor of Medford Police Officer Patrick Fahey, a DARE officer who was well-loved by the community and who passed away too soon. All proceeds from the event will help deserving Medford children to attend the summer camp program organized every year by Medford Community Schools.
The race/walk is a 5K (3.1 miles) and is open to runners and walkers of all ages and abilities. The course will begin behind the McGlynn School at Hormel Stadium and will go around MacDonald Park before finishing behind the school.
Registration is at 9AM and the race/walk begins at 10AM. There are prizes for different age groups, with prizes generously donated by local businesses. Light refreshments will follow after the event.
For more information please see http://www.fitforlifemedford.com/.
- InsideMedford.com