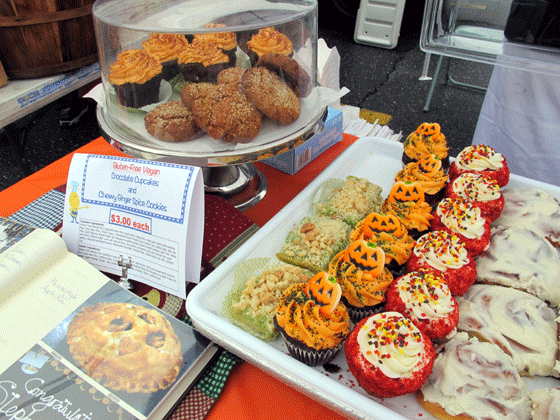 Fall-themed sweet treats offered by JannaBee's last year.
The Medford Farmers Market will end its sixth season on Thursday, October 11.
In addition to fresh fall produce, the market will be celebrating all things apple-related. Apple Fest will be taking place at the market, with vendors offering a variety of apple products and locals competing in the annual Apple Bake Off contest. According to the Farmers Market Facebook page, delectable items available include caramel apple cookies, apple cider marshmallows, apple dumplings, caramel apple bread pudding, and apple pie bread, to name a few. There will be free apple cider and free pumpkin painting for kids.
Sad the market is over? Don't despair! Medford's first ever winter market will begin on December 6. The market will take place at the same time and will be located in the Hyatt's underground parking garage, right next to the farmers market's current location.
The market is taking place Thursday from 3-7PM in Medford Square next to City Hall.
- InsideMedford.com