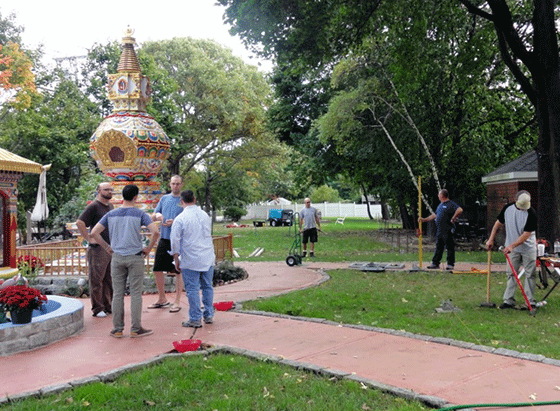 Many interior and exterior improvements are being made to the Kurukulla Center to accommodate the Dalai Lama's event, including removing fencing to use neighboring yards to provide room for a massive tent. Courtesy photo.
- Allison Goldsberry
When the 14th Dalai Lama visited the Kurukulla Center for Tibetan Buddhist Studies in Medford in 2003, there was a crowd, heavy security, and notable guests. However, in contrast to Tuesday's upcoming event, most of his visit took place inside the center out of public view.
On October 16 the Dalai Lama is expected to speak for two hours to a crowd of 1,500. His address is a private event that is for ticket holders only. In addition, a Tibetan marketplace with food and vendors will be open to the public outside of the Kurukulla Center. The event will be much bigger than what took place the last time the Dalai Lama visited here.
The Dalai Lama is also expected to consecrate the Kalachakra Stupa for World Peace, which is located in the backyard of Kurukulla Center. According to information released by the center, the Stupa is fifteen feet high, took four years to complete, and is built according to "sacred geometry and centuries-old principles." Stupas are unusual in the Western world yet common in Asia.
The Dalai Lama's political successor, Lobsang Sangye, the Prime Minster of the Tibetan Government in Exile, will attend the event along with his family, who are residents of Medford.
Monk teacher Geshe Tenley, one of the people who helped bring the Dalai Lama to Medford, said his visit will be a "blessing" for the community.
"We are beyond delighted that His Holiness the Dalai Lama will again be visiting Kurukulla Center and thereby fulfilling one of Geshe Tsulga's dying wishes," said Tenley. "We believe this visit will bring blessings to everyone: neighbors, Boston, the people of Massachusetts, and all people."
The Dalai Lama's Medford visit will be broadcast live on www.madeinmedford.com. A large screen and speakers will also be set up outside of the event so those without tickets can watch.
The Kurukulla Center is located on Magoun Avenue. Several area streets will be closed down and parking restrictions will be in effect on Magoun Avenue, Washington Street, Logan Avenue, and Sheridan Avenue. More details are available on www.medford.org.
According to a schedule posted online, the marketplace will open at 10AM on Washington Street and closes at 5:30PM. The Dalai Lama is expected to speak between 1:30 and 3:30PM. Traditional Tibetan song and dance will be performed prior to his arrival.
Video of the Dalai Lama's 2003 trip to Medford is also available on www.madeinmedford.com.