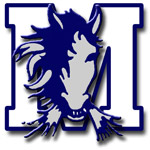 - Allison Goldsberry
After a slow start to the season the Medford High School girls varsity volleyball team earned three back to back wins last week.
The Lady Mustangs pulled out three close victories over Somerville, Salem, and Matignon.
"The team is re-energized by their three consecutive wins and we are looking forward to going into [this] week's league matches with a new focus," said Coach FitzPatrick.
Medford's most recent win was against Matignon on home turf Friday afternoon. It was a another "nail-biter" match, with the Mustangs ultimately pulling out a 3-2 victory.
Coach FitzPatrick said every player on the team contributed in their roles. The nine players who entered the game scored points. Middle hitters Kelly Foley (junior) and Lydia Regan (senior) were "notable" in their performace. Foley had 13 Kills, 2 Blocks, and 8 Aces, with a run of 11 service points, in the first set of the match while Regan had 15 Kills and 3 Blocks, according to FitzPatrick.
Following a loss to Cambridge on Monday, the Mustangs are currently 4-11 overall and 2-4 in the Greater Boston League. Medford has key GBL match-ups with Everett and Malden on Wednesday and Friday, respectively. Both matches are at home.