Chris Serino leaves impressive legacy after decades of contributions to N.E. sports landscape
- Stephen Freker, Medford Daily Mercury/Malden Evening News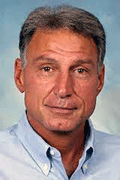 He is regarded as a true legend in the coaching ranks and he will always be known as someone who put the players and other students he guided first.
Chris Serino, a longtime Saugus resident and seven-year athletic director and head hockey coach at Malden Catholic High School, passed away Monday night with his family as his side after a lengthy battle with cancer. He was 63.
Coach Serino leaves his wife. Robin, five sons, a large extended family and a wealth of friends around the area and the country, through his many years as a player, coach and administrator in both college and high school athletics.
At first, a private battle
Coach Serino at first waged a private battle with his illness, stepping down from his coaching post almost a year ago, in early November, 2011 and then proved to be an inspiration to many, including his beloved Lancer hockey players, who captured their second consecutive Division 1A Super Eight Hockey Championship this past March, pointing to their coach in the stands immediately after their title win.
First of two titles in 2011
A year earlier, Coach Serino had led Malden Catholic to its first-ever Super Eight crown and first State Hockey Championship in nearly 40 years, with a win over St. John's Prep at the Boston Garden in March 2011.
In his seven years at the helm of the hockey program, Coach Serino saw it through its most successful stretch in school history, counting this past season, as it compiled an overall record of 115-30-24 from 2005-2012, including two Catholic Conference Championships to go along with the two Super 8 titles.
Prior to coming to Malden Catholic, Coach Serino had served as athletic director and head hockey coach at Merrimack College in Hockey East, from 1998-2005.
Coached at Merrimack
While at Merrimack, Coach Serino had fought through his first bout of throat cancer in 2001, returning to the bench in the 2002 season for the Warriors after successful surgery.
Before Merrimack, Coach Serino was assistant hockey coach at the University of New Hampshire for much of the 1990s. He also served as head baseball coach at UNH in the 1990s.
Coach Serino was a formidable competitor as a player as well, as a former three-sport standout himself at both Saugus High School in football, hockey and baseball in late 1960s. In a rarity, unheard of today, he also played, and excelled, in those same three sports at the collegiate level, at American International College (AIC) in Springfield in the early 1970s. In the late 1970s and into the 1980s, he was regarded as one of the best amateur and semipro men's softball pitchers in the nation, playing with the well-known Chisholm's Sports teams of those years, as well as other national-level outfits.
Prior to coaching at the college level, Coach Serino was successful in the high school ranks, winning two state hockey championships at his alma mater, Saugus High, then moving to the prep school ranks at Northfield-Mt. Hermon before going to UNH.