EMARC'S 18th Annual Tucker Gala November 5
|
MARC's largest fundraiser offers Phantom-Gourmet approved food, live auctions, and a celebrity-studded list of performers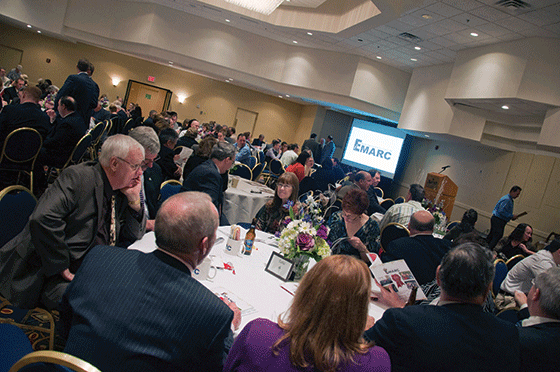 Guests fill the ballroom at the Peabody Marriott during last year's EMARC Tucker Gala Auction and Dinner. Each year, EMARC's Tucker Gala raises funds and awareness for people with developmental disabilities and their families. Courtesy photo.
EMARC is prepping their largest annual fundraiser for takeoff this November.
The non-profit organization, which supports people with developmental disabilities, is hosting their 18th annual Tucker Gala on November 5th at the Boston Peabody Marriott in Peabody. The Tucker Gala is EMARC's signature fundraiser and supports the agency's recreation, housing, and employment programs for hundreds with developmental disabilities across Middlesex County.
This year's Tucker Gala theme is "Come Fly with Me: Helping Dreams Take Flight". The theme illustrates the goals and dreams of EMARC participants.
"Helping people reach their goals and build dreams is really what EMARC is all about. This year's Tucker Event will be an exhibit of that hard work," said Richard Royse, Executive Director of EMARC.
The Gala begins at 5:30 pm with tasting stations composed of a mix of local restaurants and "Phantom Gourmet approved" restaurants from around Massachusetts. Cuisine from The Capital Grill, Kowloon, Chocolate Truffle, The Horseshoe Grille, Piantedosi Baking Company, and many more will all be featured.
For this year's event, a celebrity-studded lineup will host Tucker Gala's live auction. Comedian Lenny Clarke will appear for the first time at Tucker Gala and, along with auctioning off items, will also perform material from his stand-up act. Comedians Steve Sweeney and Tony V will also be on hand along with Phantom Gourmet's Dave Andelman. Radio great Hank Morse returns as emcee.
Auction items this year include Patriots tickets, gift certificates to Boston-area restaurants, Dropkick Murphys tickets, New England Patriots Tickets with limo ride to Gillette Stadium, and a one week vacation stay at surf – side beach house on Myrtle Beach.
"We're really excited about our auction items this year," said Royse. "We have several old favorites to auction off and even a few new surprises up our sleeve. We'll be revealing these surprise auction items online so stay tuned to theemarc.org over the next few days."
Individual tickets cost $75 and tables (for 10 people) cost $650. Tickets can be purchased online at www.theemarc.org or by calling Amy O'Brien at 781-942-4888 x 164.
About EMARC
EMARC is a 501c3 non-profit charitable organization that supports individuals with developmental disabilities. Our mission is to support, serve, and advocate for people with developmental disabilities and their families to ensure they are valued, respected, and have the opportunity to fully participate in our communities. For more, see www.theemarc.org.
– Information from EMARC