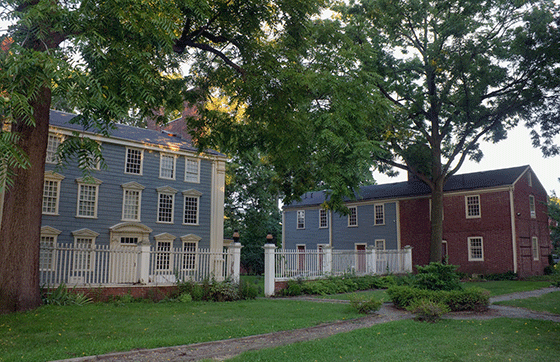 On Wednesday, November 14, 2012, at 7:30 p.m., historian J. L. Bell will present an illustrated lecture on Penelope Royall, Cuba Vassall, and the Families of Tory Row, exploring little-known connections between the wealthy Loyalists of pre-Revolutionary Cambridge and the emergence of an African American community after independence.
The 1741 marriage of Penelope Royall, daughter of Isaac Royall, Sr., to Henry Vassall united two families that had gained great wealth from Caribbean sugar plantations. When the bride moved from her family's Medford estate to Cambridge, she took with her a young enslaved woman named Cuba. Widowed in 1769, Penelope sold Cuba and Cuba's children to her nephew John Vassall, who lived in the "Tory Row" mansion now known as Longfellow House–Washington's Headquarters National Historic Site. Mr. Bell's talk will explore the Vassalls' neighborhood and Cuba Vassall's life in the new republic.
The event will be held at the Royall House & Slave Quarters at 15 George Street, Medford, and is free to Royall House & Slave Quarters members. General admission is $5.  Doors open at 6:30 p.m. for the museum shop and exhibits. On-street parking is available, and the museum is located on the 96 and 101 MBTA bus routes. Please email director@RoyallHouse.org for more information or visit RoyallHouse.org.
About the speaker: J. L. Bell blogs at Boston 1775 (Boston1775.blogspot. com), offering daily updates on the history of Revolutionary New England. He has recently completed a book-length study of Washington's headquarters in Cambridge, starting with the John Vassall household. Mr. Bell has spoken at many historic sites around Boston and has written articles on Revolutionary boys, town watchmen at the Boston Massacre, and General Washington's first spies.
About the museum: In the eighteenth century, the Royall House & Slave Quarters was home to the largest slaveholding family in Massachusetts and the enslaved Africans who made their lavish way of life possible. Architecture, furnishings, and archaeological artifacts bear witness to the intertwined stories of wealth and bondage, set against the backdrop of America's quest for independence. The Slave Quarters is the only remaining such structure in the northern United States, and the Royall House is among the finest colonial-era buildings in New England.
- Submitted by Royall House Director Tom Lincoln