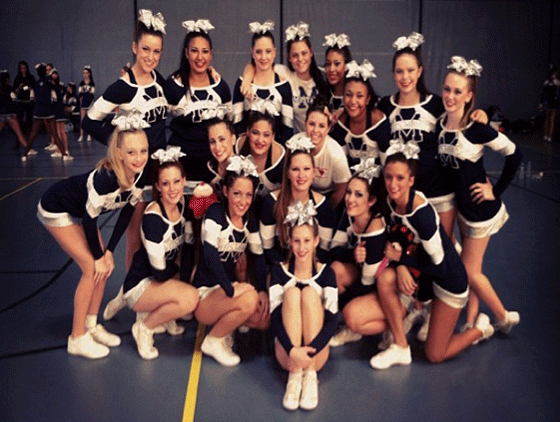 The Medford Mustang Cheerleaders won the GBL title Sunday at Medford's annual Spooky Halloween Cheer/GBL Tournament.
Medford scored a 73, besting Malden High School, who scored a 68.5, for the title. Both schools earned the right to compete at the MSSAA North Regional Cheer Tournament at Beverly High School on November 11, 2012.
"In cheerleading, you have to earn your way to the State Final and winning your league is one step towards that goal," said Coach Michelle Kimball.
Kimball said the team is working on its routine before competing regionally.
"Each school that moves on has to score 67 points or better in order to be able to compete at regional tournament. At the regional, you have to score 80 points or better in order to be able to compete for the State title at Shrewsbury High School on November 18th," said Coach Kimball. "Medford performed their routine well, but had a few issues in stunting and tumbling. We know we need to clean that up prior to the regional. To that end, we are competing at Whitman Hanson's Invitational this Saturday in the hopes of improving our overall performance before the November 11th regional."
Kimball is grateful for all of those who helped make Sunday's cheering tournament a success.
"We had a huge crowd on Sunday, as twenty-seven teams competed in six divisions at Medford High School. We especially want to thank our Athletic Director Bob Maloney, the parents, the Stonehill Cheerleaders and a number of former Medford High Cheerleaders, who all helped to make this competition a great success," said Kimball.
- Information and photo from Lisa Evangelista