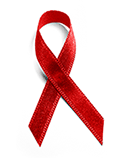 The Best Me is Drug Free
October is a full-packed month with many events and celebrations within the community and nationwide. The Office of National Drug Control Policy has recognized this month as National Substance Abuse Prevention Month to continue youth focused activities that support individuals and families as well as raising awareness about the importance of communication and resisting negative influences in our lives.
The McGlynn Middle School initiated an "Above the Influence" Club last year to give students a unified voice and support their peers in living above the influence.
"Student interest in the club has grown tremendously over the past year, and students are very anxious to begin working on different projects that bring awareness to their classmates," said Amy Deterding, Above the Influence club advisor.
This year both the Andrews and McGlynn will collaborate to celebrate the oldest and largest drug prevention campaign in the country, Red Ribbon Week. The week of October 23-31, 2012 will be celebrated by wearing Red Ribbons that recognize a special Drug Enforcement Agent that lost his life fighting for a healthy, safe, and drug free community and educating students and their families on the destructive effects of drugs and the many positive alternatives that are available.
Both schools will decorate the entrance way with red themed colors and prevention messages for the week. They will also ask the students to wear red on Friday the 26th and pledge their support because "The Best Me is Drug Free." The celebration will conclude with a 20 minute prevention video that all students will view. This week also stresses the importance of family communication and the crucial role of keeping our youth drug free.
"We encourage parents to have conversations with their children early and often about the dangers of drugs and alcohol, and the importance of school and positive influences. Our staff works hard and is dedicated to character development and decision making skills that will influence academic success and help students achieve their goals," said Principal Jake Edwards.
There is additional support from the Medford community to help thriving young people succeed such as the Medford Family Network and the Boys and Girls Club.
"These organizations provide a positive environment for youth to develop socially and emotionally. Celebrating Red Ribbon Week and encouraging our students to continue to make positive decisions enhances our efforts that students can achieve their maximum potential," said Principal Paul D'Alleva.
Please contact for further questions or resources and check your school website for tips at TeamMedford02155@gmail.com.
- Submitted by Brooke Hoyt, Medford Drug Free Communities Coordinator