The Medford High School girls varsity soccer team has earned an undefeated league title.
Medford is 10-4-2 overall and 7-0-1 in the GBL. The Mustangs will learn about their state tournament seedings on Wednesday, according to Head Coach Rachel Perry.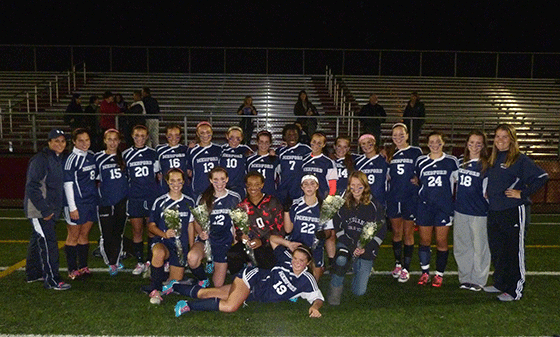 Front: Korey O'Rourke. Kneeling (left to right): Michaela Mitrano, Lauren Walsh, Mariah Vasquez, Katherine Timmins and Nicole Avella. Standing (left to right): Coach Rachel Perry, Julia Mitrano, Reyna Gontaruk, Giulia LaRocca, Adrienne Porrazzo, Mackenzie Madigan, Hannah Gallup, Kly Goncalves, Regine Jacques, Alessia LaRocca, Emma deRosas, Olivia Allison, Cassie Greene, Hailey Massa, Gigi Braga and Coach Megan Richard.
- Information and photo from Coach Perry