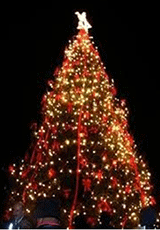 For the past 19 years, the Medford Chamber of Commerce has sponsored the wonderful lighting displays which adorn Medford City Hall throughout the holidays. The Medford Vocational Tech High School students fabricate the displays as part of their educational experience.
In addition to our lighting displays, this year we will continue our tradition of sponsoring a Remembrance Tree. We started this tradition in 2003 and it has been a great success. Each light on the tree symbolizes the light of someone you wish to be remembered.
Please tribute your loved ones with a special light that will burn throughout the holiday season. The sign up form is available on the Chamber of Commerce website.
- Submitted by Jody Coyne, Medford Chamber of Commerce