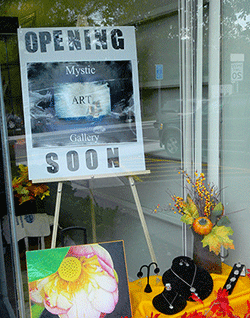 Medford Arts Center, Inc. (MACI) is excited to announce the grand opening of the Mystic Art Gallery on Saturday, November 3. The gallery, located at 14 Main Street in Medford Square, will host a public opening and celebration from 12:00 pm – 7:00 pm, commencing with a formal ribbon cutting at noon by Medford Mayor Michael J. McGlynn.
"MACI has been looking to create a central community resource for the arts, and the Mystic Arts Gallery fulfills that charter," said MACI President Mike Oliver. "This is the culmination of a dream we've had for many years, and provides a wonderful, and much-needed, addition to the growing Medford arts community."
Along with being a traditional art gallery, the Mystic will host and sponsor lectures, classes and a free exchange of ideas amongst artists and the Medford community. It will feature works in a variety of art forms, including sculpture, jewelry, mosaic art, oil paintings, water color, photography and multimedia platforms.
The gallery will also spotlight a rotating Artist of the Month. The first is Adele Travisano, a fixture in the Medford arts community since the 1980s whose work has appeared in galleries and museums in New England, New York, and New Jersey, including Acme Fine Art Gallery on Newbury St. in Boston, the Cherry Stone Gallery in Wellfleet, MA, and the William Benton Museum in Storrs, CT. She is also featured in collections nationwide, including those of Graham Gund and the Bank of America.
All local artists are welcome to join the Mystic Art Gallery, first by joining MACI and then becoming gallery members for a nominal fee. The gallery operates as a co-op and members also spend four hours a month onsite volunteering.
The Mystic also welcomes volunteers from the Medford community to assist at the gallery in various operational roles.
Along with the official ribbon cutting ceremony, the grand opening will feature raffles, refreshments and even a live sculpting demonstration.
After November 3, the gallery's initial hours of operation will be Thursdays and Fridays from 5:00 pm – 9:00 pm, and Saturdays and Sundays from 12:00 pm – 4:00 pm.
For more information on the Mystic Art Gallery, its latest schedule of events and MACI, visit us on the web at www.medfordarts.org or www.facebook.com/TheMysticArtGallery, or call 781-396-ARTS (2787).
About MACI
The Medford Arts Center, Incorporated (MACI) encourages and promotes the arts in Medford, Massachusetts through arts appreciation and education. A non-profit arts and artists' organization,
MACI provides support for Medford artists in the visual, performance, and written arts, and welcomes exhibiting artists, writers and those with an interest in supporting the arts to become a member.
- Information from Patricia Saunders, MACI Past President