- Allison Goldsberry
The Medford High School girls varsity soccer team will open up the state tournament on the road at Concord-Carlisle.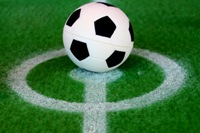 The Lady Mustangs, undefeated Greater Boston League champions, are 10-4-3 and are seeded 12th out of 20 teams in North Division 1. They earned a bye in the preliminary around and head to 5th seed Concord-Carlisle (14-3-0) on Saturday, November 3 for a 6PM game.
The winner will end up in the quarter final round of the state tournament. Beverly (#4, 14-3-0) is awaiting the outcome of a game between Madison Park (#13, 8-4-1) and Cambridge (#20, 7-7-3). The winner of the Medford/Concord-Carlisle game could end up playing one of those three teams.
Cambridge was the only other GBL team to qualify for the state tournament. The top seed in North Division 1 is Peabody (17-1-0).
In other local girls soccer news, Arlington Catholic (8-7-3) is the 17th seed out of 19 teams in North Division 2. The Lady Cougars face #16 Gloucester (8-7-3) at Gordon College on Friday, November 2. The winner of that match up will face top seed Amesbury (15-0-2).
Mystic Valley and Minuteman also qualified for the state tournament in North Division 3. Mystic Valley (#4, 13-2-3) will play #13 Maimonides (5-3-2) at Malden Catholic on November 4 while Minuteman (#9, 13-6-0) heads to #8 Innovation Academy (12-4-2) also on November 4.
Meanwhile, Malden Catholic (5-9-3) is the last seed of twenty teams in North Division 2. The Lancers face #13 Lynn Tech (10-5-1) at Manning Field on Friday. The winner will be on the road at Danvers (#4, 14-3-1) on Sunday.
Matignon and Mystic Valley will both compete in the North Division 3 tournament. Matignon (#2, 14-4-0), will host either Lynnfield (#15, 8-7-3) or North Shore (#18, 7-7-4) on November 4.
All state tournament details are available on the MIAA website.