Local Soccer Teams Still Alive in State Tourney
|
– Allison Goldsberry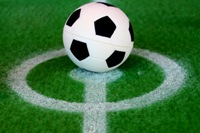 After a weekend of soccer, a couple of local girls soccer team are still alive in the state tournament.
First, a look at some who competed valiantly but didn't make it.
The Medford High School girls varsity soccer team, undefeated Greater Boston League champions, lost 2-0 on the road to Concord-Carlisle. Malden Catholic fell to Lynn Tech, Matignon was upset by Lynnfield, and Mystic Valley lost to North Reading.
The Arlington Catholic Lady Cougars advanced in the state tournament with a 1-0 win over Swampscott. AC faced top seed Amesbury on Sunday night and suffered a 5-2 loss to end their tourney bid.
Meanwhile, Minuteman's girls soccer team defeated Innovation Academy 2-0. Minuteman hosts Weston in the quarter finals on Tuesday, November 6.
Mystic Valley blanked Maimonides 5-0 at Malden Catholic Sunday night. Mystic Valley will host Notre Dame-Tyngsboro at MC on November 6 in the quarter final round.
If Mystic Valley and Minuteman both win on Tuesday, the two schools could face each other in the semi finals.
All state tournament details are available on the MIAA website.