Four More Years! Pres. Obama Re-Elected
|
– Allison Goldsberry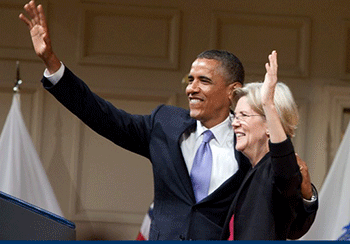 President Barack Obama defeated Republican challenger Mitt Romney to earn his second four-year term.
In Medford, Obama earned 18,613 votes while 8,294 voted for Romney, according to unofficial results. Statewide, President Obama earned 60% of the vote while the former MA governor picked up 38%. Pres. Obama even managed to win Romney's adopted home town of Belmont.
Incumbent Republican Senator Scott Brown lost his seat to Democratic challenger Elizabeth Warren. Warren, the first woman to be elected a US Senator in Massachusetts, earned 53% of the vote statewide while Brown received 47% of the vote. In Medford Brown had 10,580 compared to Warren's 16,808.
Long-time Democratic Congressman Edward Markey successfully fought off Republican challenger Tom Tierney. Markey was re-elected with 75% of the vote. In Medford Markey received 21,249 compared to Tierney's 4,884.
State Representative Sean Garballey (D-Arlington, Medford) retained his seat with 81% of the vote over Republican challenger Joseph Monju. Democratic State Representative Carl Sciortino (Medford, Somerville) earned 83% of the vote while Republican challenger David Rajczewski received 17%.
Middlesex Sheriff Peter Koutoujian, a Democrat, was re-elected with 77% of the vote, defeating challenger Ernesto Petrone.
The "Right to Repair" ballot question, Question 1, passed with 86% voter approval statewide. 19,181 Medford voters supported the measure while 3,152 voted no. Voters also supported a ballot initiative to legalize medical marijuana. Sixty-three percent of voters statewide supported the measure while 37% were in opposition. In Medford 16,678 voted in favor while 9,070 were opposed.
The controversial physician-assisted suicide measure was still too close to call late Tuesday night. The latest numbers from Boston.com show 51% voting against the ballot initiative statewide. In Medford 12,588 voted in favor of the initiative while 13,445 were opposed.
Meanwhile, several local politicians faced no opposition- State Representative Paul Donato, Governor's Councilor Terence Kennedy, Register of Deeds-elect Maria Curtatone, and Middlesex Clerk of Courts-elect Michael Sullivan.
Despite lines encountered by many at the polls, turnout in Medford was down slightly from 2008, percentage-wise. Early numbers show about 73% of Medford's 37,554 registered voters participated in the 2012 election, compared to 76% in 2008. However, there were more registered Medford voters this year than in 2008, and more voters participated in 2012 than four years ago.