Green Line Design Meeting November 15
|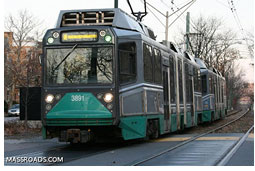 Photo by Alexander Svirsky, MassRoads.com.
On Thursday, November 15 the Green Line Extension Project Team will hold a GLX Design Working Group meeting from 6:00 pm to 8:00 pm to introduce the new preliminary engineering and final design team and to update the committee on progress on the FTA New Start application and the schedule moving forward.
The meeting will be held at the at 51 Winthrop Street in Medford (part of Tufts campus). Parking is available on Boston Avenue along Capen Street Extension, in the Dowling Parking Garage and surface lots near Miller Hall and Hill Hall (Tufts University buildings).
More information about the project its available on the Green Line Extension website at: www.mass.gov/greenlineextension.
– Information from MassDOT