Chevalier Theatre Organ Society Annual Meeting Saturday, December 8
|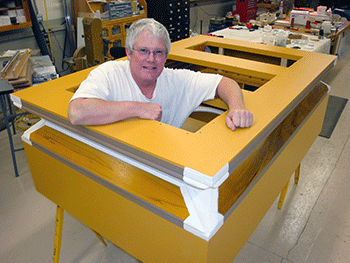 Pipe organ restoration professional Gary Phillips will be the speaker at the Chevalier Theatre Organ Society's annual meeting in Medford on Saturday, December 8.
Phillips is principal partner of GHP Associates of Attleboro, Mass., which specializes in the restoration of orchestral organs, both concert and theatre. His company recently joined with the Pelland Organ Co. of Derry, New Hampshire, in working on restoration of the rare 1922 Mighty Wurlitzer theatre pipe organ being installed at Chevalier Theatre in Medford Square.
Phillips, who has also played the organ since childhood, began his career as a technician with a service company in his native New Jersey. In the mid-1980s he relocated to the Massachusetts/Road Island area and established GHP Associates.
Since the early 1990s, GHP Associates has worked closely with noted organ restoration company Nelson Barden and Associates, known for its elegant restoration work on such instruments as the John R. Silber Symphonic Organ at Boston University and organs at the Old South Church in Boston (Skinner) and the Groton (Mass.) School (Aeolian Skinner). GHP also was charged with the restoration/redesign and building of the winding systems for both the Great Organ (Aeolian Skinner) at the Cathedral Church of Saint John the Divine in New York City, and the huge Aeolian organ at Longwood Gardens in Kennett Square, Pa.
Phillips also has had a role in restoration and/or voicing work on several Wurlitzer organs in the Northeast, including those at the Long Island University, the Providence Performing Arts Center, and the Loranger Middle School in Old Orchard Beach, Maine. He currently is leading the restoration of the Wurlitzer at the Union County Arts Center in Rahway, New Jersey, an instrument of similar size and vintage to the Chevalier Wurlitzer.
Phillips is also a published writer on the subject of pipe organ restoration and frequent speaker on the subject.
The Chevalier Theatre Organ Society's annual meeting will take place at 1:30 p.m. on Saturday, December 8, at the Medford Historical Society, 10 Governors Ave., Medford Square. The meeting is open to the public.
The Chevalier Theatre Organ Society, a 501(c)3 nonprofit organization, was formed to restore, install and maintain a 1922 vintage Mighty Wurlitzer theatre pipe organ at the city of Medford's Chevalier Theatre, and to raise all necessary funds to do so. For more information, visit www.chevaliertheatreorgan.org.
– Submitted bu Ken Krause