Boys and Girls Club Kids Raise Money for American Cancer Society
|
The Medford Club of the Boys and Girls Clubs of Middlesex County (BGCMC) has raised more than $800 for the American Cancer Society through the organization's month long October fundraising effort to support Making Strides Against Breast Cancer. The Medford Club's "We Care" community engagement group of 9-, 10- and 11-year-olds, along with the Medford Middle School Torch Club service and leadership group, picked breast cancer awareness as their fundraising focus area for the second year in a row.
Through the We Care and Torch Club programs, youth-driven ideas on how to improve and help their community are put in to action. Throughout the month of October, youth made cards for breast cancer patients, created pink accessories to raise awareness at school and at the Boys and Girls Club, and to plan both a bake sale at the Clubhouse and a fundraiser in Medford Square. The fundraising goal was set at $350 after their efforts the previous year raised $320.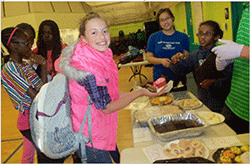 At the end of October, Medford Boys and Girls Club members were thrilled to learn that they had collectively raised $834 at their bake sale, the Medford Square fundraiser, and volunteer and parent donations!
"The $834 raised by the members of the Medford Boys and Girls Club was truly impressive and inspiring," said Jacquelyn Rudis, Director of the Medford Boys and Girls Club. "The club members researched the facts about cancer and became knowledgeable about its cause. They contributed not only financially, but also through uplifting and creative cards for breast cancer patients. I am very impressed by their enthusiasm and dedication!"
– Photos and information from Jacqueline Rudis