Preview of 125th Thanksgiving Game
|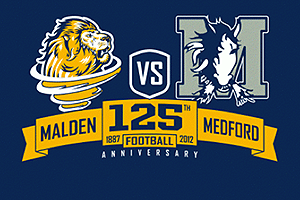 – Stephen Freker, Medford Daily Mercury/Malden Evening News
Hold that stuffing and belay the turkey…for a couple of hours, anyway. There's football to be played (and to watch) this morning!
The annual Malden High-Medford High Thanksgiving Day Classic kicks off Thursday (10:00 a.m. start) at Macdonald Stadium in Malden and it's a big one, the historic 125th time and from all indications a huge crowd is expected.
This year's Malden High seniors, who are at 2-8 overall, are looking to make it five in a row in the ancient series, after last year's shutout win, a 36-0 blanking at Hormel Stadium in Malden.
On the flip side, the Medford High Mustangs are hoping to stop the four-game Malden streak and start a positive streak of its own.
Also, Medford wants to stop its own season loss streak, as it comes in with no "W's" in the bank at 0-9 overall. In his season at the helm Mustang interim head coach Jason Nascimento is in search of his first win over Malden on Thanksgiving Day.
With a victory, Medford High can also pull within four games of the lead in the heralded series for all time, as Malden still leads, 69-54-10. Neither team has fared so well in the Greater Boston League.
Both Malden and Medford lost to Everett High and a rejuvenated Cambridge Rindge and Latin this year in one-sided decisions. Malden held off Somerville for its lone GBL win while Medford just missed for a close loss at Somerville.
Medford is looking to avoid a second winless season in the past four years, having gone 0-11 in the 2008 season.
Medford is led by a first-year/interim coach Jason Nascimento who took over for former three-year plus head man Rico Dello Iacono, who departed after the third game of this season.
Dello Iacono had gone 0-3 in three tries at the Thanksgiving Game trophy against Malden.
Malden High is led by head coach Joe Pappagallo who is a perfect 3-0 in his other three Turkey Day games at the helm.
Pappagallo's been on the sideline before for a Malden-Medford game, having previously served as offensive coordinator for Malden High from 2001-2005.
Malden High's led by captains Jake Martino, the Tornado quarterback, Paul Kiernan, Jean Sylvain and Cruz Desrochers. Medford's senior captains are Nathan Clement, Lucas Mazzotti, Jeff Fargo and Marc Marino.
Along with the seniors playing in their final game, both teams are led by key underclassmen and veterans.
Malden High features junior "Do-it-all" running back Ray Sainistril, the team's leading scorer. Senior wideout Franklin Huynh can go over 1,000 yards receiving, and would be the first Malden receiver to do so than Tornado icon Carmine Cappuccio did it, historically, in the 100th Malden-Medord game in 1987. If Huynh gets 150 yards receiving, he gets to 1,000 Thursday. Medford junior quarterback Reg Thelemaque is a threat to run or throw, stepping in and solidifying the position soon after Coach Nascimento took over.
So who's the favorite?
We have to say Malden is the favorite today, judging from its better outings versus Somerville (36-30 win) and Everett (54-20 loss). The score in the Everett game was actually 34-20 Everett at one time. Medford was never in it when they dropped a 35-0 game to Everett.
Inconsistency has hurt both teams during the course of the season, but both have weathered storms and come out of it with enthusiasm.
Whichever team does come out on top, it would be considered the traditional "season saver" and a big boost toward next season.